Today in Trump's America: Andrew Gillum wins stunning upset in Florida Democratic governor primary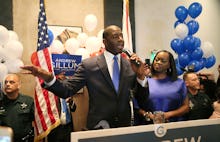 Welcome to Mic's daily read on Donald Trump's America. Want to receive this as a daily email in your inbox? Subscribe here.
Good morning from Emily Singer at Mic.
Here's what's happening in Trump's America:
• Trump's day begins at 11:30 a.m., when he receives his daily intelligence briefing.
About last night: Progressive Democrat wins Florida gubernatorial primary in stunning upset
Tallahassee Mayor Andrew Gillum, a Democrat backed by the progressive wing of the party, won a crowded Democratic primary field for governor in Florida Tuesday night — stunning political onlookers who did not believe Gillum could win.
Gillum defeated the front-runner in the race, former Rep. Gwen Graham, 34.3% to 31.3%, according to the New York Times.
Gillum's win comes as a shock given he was severely outspent by his opponents and never led in any public polls leading up to the primary. In fact, polling averages had him in third place heading into Election Day.
Grassroots energy, fueled by endorsements from progressives such as Sen. Bernie Sanders, helped push Gillum to a win. Similarly, the fact that none of the other Democratic contenders thought he could win led him to avoid facing any serious attacks, despite the fact the city he runs is currently embroiled in an FBI investigation — which Republicans are now likely to play up in the general election.
Nevertheless, Gillum made history with his win as the first black major party candidate for governor in Florida. He will face off with Trump-backed GOP Rep. Ron DeSantis — a Tea Party Republican who backs Trump's fervent anti-immigrant policies — in November.
The match-up will present one of the starkest contrasts in any race in the country. The fact that it's taking place in a swing state like Florida makes it an important test for both progressives and the Trump wing of the GOP. Whichever candidate wins will likely declare victory for their brand of politics.
This wasn't the only key race to take place Tuesday: Republicans got the candidate they wanted in a Senate race in Arizona to replace retiring Sen. Jeff Flake, with Rep. Martha McSally easily defeating two far-right candidates in Kelli Ward and former Maricopa County Sheriff Joe Arpaio.
Both the Florida governor's race and the Arizona Senate contest are rated toss-ups by the nonpartisan political handicapping outlet Inside Elections.
Today in Trump's America: Trump continues to attack democratic institutions
Trump told a group of evangelical leaders Monday that if Democrats won back power in Washington, Christians would be "losing everything" they won under Trump because Democrats would "violently" take it from them, NBC News reported.
"They will overturn everything that we've done and they'll do it quickly and violently, and violently," Trump told the leaders at a private reception at the White House, according to NBC News. "There's violence."
Of course, Democrats will not violently rip away rights from Christians, as Trump said, making this one more false attack that further hurts democratic norms, such as the peaceful transition of power in the U.S.
The Washington Post also reported Trump is once again considering firing Attorney General Jeff Sessions — whom Trump has attacked for recusing himself from the Russia investigation, which he believes led to the appointment of special counsel Robert Mueller.
Firing Sessions could be seen as an attempt to squash Mueller's investigation — which has pierced Trump's innermost circle and threatens Trump himself.
Capitol Hill happenings: Did Paul Ryan's super PAC illegally obtain a Democrat's security clearance form?
The Congressional Leadership Fund, a super PAC tied to House Speaker Paul Ryan, is under fire for possibly improperly obtaining an unredacted security clearance of Virginia Democratic House nominee Abigail Spanberger, a former CIA operative who threatens to flip a seat in the Richmond suburbs.
According to a report in the New York Times, Spanberger sent a cease and desist letter to CLF's Executive Director Corry Bliss, demanding he destroy the forms and not use the information he received from the form in any communications.
"I write as a former civil servant and as an American, in shock and anger, that you have tried to exploit my service to our country by exposing my most personal information in the name of politics," Spanberger wrote in the letter to Bliss, according to the Times.
CLF claims it obtained the security clearance form through a Freedom of Information Act request with the U.S. Postal Service. But experts say such a form would never be given through a FOIA request, especially in an unredacted form CLF had it.
"It is reprehensible that a political group would improperly obtain a copy of my unredacted National Security Questionnaire (SF86) in an effort to get personal information about me," Spanberger said in a statement.
This is not the first time CLF has used information against Democratic candidates obtained in a shady manner. The PAC used information from emails that were released as part of Russia's hacking of Democratic candidates in a handful of House contests in 2016.
And the rest…
Puerto Rico death toll: The governor of Puerto Rico officially revised the Hurricane Maria death toll Tuesday from 64 to 2,975 — an exponentially higher number. The new death toll was calculated by researchers at George Washington University's Milken Institute School of Public Health, which Gov. Ricardo Rosselló officially accepted.
The death toll in Hurricane Maria is now more than that of Hurricane Katrina (1,833) and nearly as many as the terrorist attack on 9/11 (2,977).