White House counsel Don McGahn to leave administration in fall, Trump announces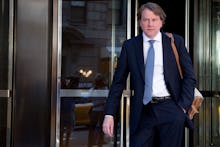 President Donald Trump on Wednesday announced White House counsel Don McGahn will leave the administration in the coming months.
McGahn will leave the White House after the planned confirmation of Supreme Court nominee Brett Kavanaugh, the president said.
"I have worked with Don for a long time and truly appreciate his service!" Trump tweeted.
The announcement came after Axios reported on the expected departure earlier Wednesday morning. Sources told the publication McGahn would leave either after Kavanaugh's confirmation or after the midterm elections in November, but he expects to be involved in Trump's 2020 re-election effort.
Word of the expected departure comes on the heels of reports McGahn met with special counsel Robert Mueller at least three times over the past nine months.
McGahn met with investigators for 30 hours this year, according to the reports, and may have provided them with information about key episodes related to the FBI's inquiry into possible obstruction of justice on the part of the president.
Trump claimed he allowed McGahn to testify in order to "fully cooperate" with Mueller's team because he has "nothing to hide."
"Most transparent in history," Trump tweeted after the reports. "No Collusion, No Obstruction. Witch Hunt!"
Reporter Maggie Haberman, who first wrote on McGahn's meetings with Mueller for the New York Times, countered that notion in an Aug. 18 tweet, saying the White House "didn't understand the extent" of McGahn's cooperation.
McGahn has been a "key witness" for the special counsel's team, the Times reported, and has discussed with investigators an episode in June 2017 in which Trump reportedly ordered Mueller fired.
McGahn threatened to resign rather than carry out the order, the Times reported in January, and Trump ultimately backed down. But the direction has been of interest to Mueller, who is leading the FBI's investigation into possible collusion between the Trump campaign and the Kremlin during the 2016 election.
It's not yet clear who will replace McGahn, but Axios reported Tuesday that he would like lawyer Emmet Flood to succeed him. Flood, who represented former President Bill Clinton during his impeachment proceedings in the 1990s, joined Trump's team in May to deal with the Russia investigation.
He replaced attorney Ty Cobb, who had taken a more cooperative approach to the Mueller investigation in what was seen at the time as a shift toward a more combative posture toward the probe.
Aug. 29, 2018, 10:50 a.m.: This story has been updated.