Women say Louis CK's "comeback" comedy set featured a joke about rape whistles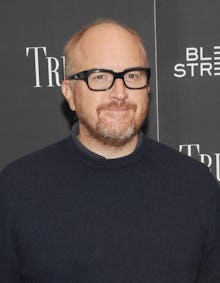 Louis C.K. recently took the stage at New York City's Comedy Cellar for an impromptu standup set, a little less than a year after the comedian admitted to sexually harassing several different women. The performance has inspired a ton of discourse online about when men accused of — or, in C.K.'s case, guilty of — sexual misconduct are going to be welcomed back into the public spotlight, if ever.
Now, two women who were in the audience for C.K.'s "comeback" set have opened up about what it was like to be in the room. Speaking to Vulture, the women said that the whole atmosphere felt intimidating for anyone who wasn't interested in watching C.K. perform (again, this was a surprise set, so no one knew they were going to be seeing C.K. onstage), and that feeling certainly wasn't helped by the fact that the comedian made a joke about rape whistles.
"If someone had heckled him, I think they would've been heckled out," one of the women, identified only as S.B., said. "It felt like there were a lot of aggressive men in the audience and very quiet women. It's the kind of vibe that doesn't allow for a dissenting voice. You're just expected to be a good audience member. You're considered a bad sport if you speak out."
She also described the facial expressions of at least three other women in attendance, saying, "They were just looking at him, deadpan, straight, not having it."
As for the rape whistle joke, according to the women's account, C.K. joked about the common saying "clean as whistle," which then turned into a joke about how "rape whistles are not clean," per Vulture.
"When he said 'rape whistle' people were laughing, and I was just sitting there like 'Oh my fuck,'" one anonymous woman said. "'This is so uncomfortable and so disgusting.' Everyone around me was laughing. That was just depressing."
The owner of the Comedy Cellar, Noam Dworman, told the Hollywood Reporter that he wasn't at the club when C.K. arrived "spur of the moment." Apparently, C.K. told the person who was acting as emcee that he wanted to go onstage. Dworman said that after the show he received one complaint about C.K.'s appearance, but the response was mostly positive from other audience members.
"There was one man who was there who complained in an email the next day and then he and I spoke about it at length," Dworman said. "But we had four or five positive emails from customers and if you hear the audio, you hear a real ovation for him."
C.K. isn't the only man involved in a sexual misconduct scandal who seems to be re-entering public life. Disgraced broadcaster Matt Lauer recently told fans at a restaurant that he'll be "back on TV," and comedian Aziz Ansari is in the midst of polishing new material at various clubs around the country. A recent write-up in Vulture noted that Ansari's latest bits touch on the subject of dating, but not the #MeToo movement or the accusations that he faced earlier this year.