Trump-backed nominee in Florida warns voters not to "monkey this up" by electing black Democrat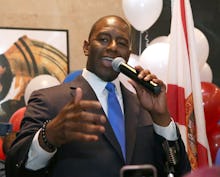 It look less than 24 hours for the newly minted GOP nominee in Florida's competitive gubernatorial election, who decisively won Tuesday's Republican primary, to make a racist, dog-whistle comment about his Democratic opponent, Tallahassee Mayor Andrew Gillum.
"Let's build off the success we've had under Gov. Scott," Republican nominee Ron DeSantis said on Fox News. "The last thing we need to do is to monkey this up by trying to embrace a socialist agenda."
Of course, "monkey this up" is not a common phrase. But "monkey" is a racist epithet used to describe black people. Gillum is black, making history as the first black major-party nominee for governor in Florida.
DeSantis won the GOP nomination Tuesday night thanks in part to an endorsement from President Donald Trump.
DeSantis also bear-hugged Trump throughout his bid, running an ad that seemed to be an attempt at humor in which he's indoctrinating his kids to love Trump and build the wall.
The DeSantis-Gillum match will be one of the most competitive of the cycle. Given DeSantis represents Trumpism and Gillum represents the progressive wing of the Democratic Party, whichever candidate wins will declare victory for their brand of politics.
The race is currently rated a toss-up by the nonpartisan political handicapping website Inside Elections.