Mother of slain Parkland student wins Florida school board election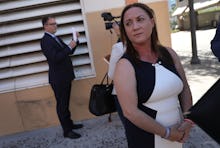 After her daughter Alyssa was killed during a school shooting at Marjory Stoneman Douglas High School in Parkland, Florida, in February, Lori Alhadeff vowed to be an agent of change in the school district that had failed her family and those of 16 other students and faculty members.
On Tuesday night, Alhadeff made good on the first part of that promise by winning the race she entered for a seat on the Broward County School Board. Her platform includes an increased focus on school security and a renewed push to hold administrators accountable for adopting efficient school safety protocols in the wake of the Feb. 14 shooting.
"I did not want any other parent to go through the pain and anguish that I go through every day," Alhadeff, a 43-year-old former teacher, told the New York Times in May. "I did not want any child to have to ever say to their mother, 'Mommy, am I going to die today when I go to school?'"
Alhadeff ran her campaign alongside another MSD parent, Ryan Petty, whose daughter Alaina was also killed when a 19-year-old school shooter stormed the high school's campus and opened fire. While Alhadeff secured a Parkland-based seat where her opponent had not sought reelection, Petty, who had challenged a seven-year incumbent for a countywide seat, lagged behind his opponent in the polls as the night wore on.
The race was one piece of an exciting night in Florida for the politically energized coalition of parents and students impacted by the deadly violence in Parkland. At the same time Alhadeff was securing her own future on the Broward County School Board, Tallahassee Mayor Andrew Gillum was pulling off a stunning political upset in a long-shot bid to win Florida's Democratic gubernatorial primary.
Gillum, who had campaigned on a platform that includes free Medicare for all and gun reform. He led a Florida State University demonstrators for gun control just after the February mass shooting in Parkland. He's won a ringing endorsement from Parkland survivor and outspoken leader of the March for Our Lives movement David Hogg after his victory was solidified.
"A lot of the young people I know were excited by him," Hogg told the Washington Post on Tuesday. "The young people will win." 
Gillum led a Florida State University demonstrators for gun control just after the February mass shooting in Parkland.
Hogg's confidence that the youth vote will be enough to tip the scales between Gillum and his challenger, Trump-backed candidate Ron DeSantis, will face a major test heading into the general midterm elections in November. But for now, at least one Parkland constituent is excited to get to work on improving safety conditions in the wake of the tragedy.
"I'm so excited to honor my daughter, Alyssa, and the 16 other victims in the Parkland shooting, and to be able to be the voice of change," Alhadeff told the New York Times on the eve of her victory.