How Andrew Gillum pulled off an upset in Florida's gubernatorial race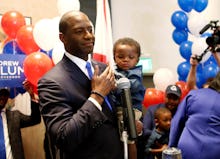 Tallahassee Mayor Andrew Gillum made history Tuesday, as the 39-year-old defeated a slate of establishment candidates to become Florida's Democratic candidate for governor — and the state's first black gubernatorial candidate from a major party.
Gillum, who earned endorsements from Sen. Bernie Sanders and a variety of progressive groups, is running on a distinctly liberal platform. In addition to championing education and gun control reform, he is pushing a "Medicare-for-All" single-payer health care plan; strongly opposes Florida's "Stand Your Ground" law, which has been used to justify the killing of unarmed men of color; and calls for Immigration and Customs Enforcement to be replaced by "a more compassionate and focused agency."
The nominee and his liberal agenda will face off in November against Republican Rep. Ron DeSantis, who earned a strong endorsement from President Donald Trump. DeSantis' far-right platform is diametrically opposed to Gillum — DeSantis opposes same-sex marriage, abortion rights and gun control reform, and he supports the repeal of the Affordable Care Act.
Pitting Gillum's progressive candidacy against DeSantis' Trumpian agenda has shaped the gubernatorial race into a broader referendum on the Democratic Party's progressive wing vs. Trump-style conservatism — and the president was eager to weigh in on the race less than 24 hours after the polls closed.
"Not only did Congressman Ron DeSantis easily win the Republican Primary, but his opponent in November is his biggest dream... a failed Socialist Mayor named Andrew Gillum who has allowed crime & many other problems to flourish in his city," Trump tweeted Wednesday morning. "This is not what Florida wants or needs!"
How Gillum won the nomination — and plans to win in November
While Florida's gubernatorial races have traditionally been led by centrist, "Republican-light" Democrats — a strategy that has resulted in zero gubernatorial wins since 1994 — Gillum's underdog campaign took an openly liberal approach that put Gillum's progressive policies at the forefront.
"We are never going to win back control by being Republican-light. We will win when we decide we are going to represent the values that make us Democrats," Gillum said in an interview with Mic in March 2017. "We have to have a big enough vision that can hold where we want to go."
Positioning himself as the only non-millionaire in the Democratic race, Gillum's strategy hinged on mobilizing Democrats — particularly young, working class and minority voters — to head to the polls, rather than attempting to moderate his positions to court conservatives.
"It's my opinion that the way we are going to win is by nominating a candidate who has the ability to move more of our voters to the polls, more black voters, more brown voters, more young voters, more purple voters, more white voters, more working class voters," Gillum said during a campaign stop in August, as quoted by the Miami Herald. "That's how we're going to win."
This emphasis on mobilizing voters was seemingly a winning strategy. The Tampa Bay Times reported Tuesday that Democratic turnout was up nearly 70% from the 2014 midterm elections during the state's early voting period.
Gillum's inclusive approach has included reaching out to Florida's significant nonwhite population, which makes up about one-third of Florida voters. According to the Sun Sentinel, black residents account for 13% of Florida voters — and 29% of the state's Democratic vote. Latino voters account for 16% of voters overall and 17% of Democratic voters.
During the primary, Gillum reached out to black communities and organizations across the state, appearing on drive-time radio shows with a predominantly black listenership and appealing to black church congregations throughout South Florida. This outreach to the black community appears to have been successful; Tampa Bay Times reporter Langston Taylor noted on Twitter that Gillum's biggest lead was in Florida's Duval County, which has the largest share of black Democratic voters.
Gillum has also appealed to the state's increasing Puerto Rican population, touting an endorsement from Puerto Rican Rep. Luis Gutierrez (D-Ill.) on his website and advocating for policies that would provide disaster relief and help better transition newly arrived Puerto Ricans to life on the U.S. mainland.
New Florida Vision PAC backed Gillum's candidacy, rallying black, Latino and Haitian voters around Gillum as a candidate who would "put our communities first." In the wake of Gillum's primary win, PAC political director and former state senator Dwight Bullard said in a statement, "Black voters, other voters of color and progressives can claim this victory as theirs."
In addition to uniting demographics, Gillum's candidacy has also sought to unify a fractured Democratic party. Gillum gained national attention through Sanders' support, with the Vermont Senator calling him a "strong progressive" who could "transform this state politically" — yet the candidate endorsed Hillary Clinton during the 2016 primary and spoke at that year's Democratic National Convention.
The Florida mayor has sought to bridge the gap between these two factions of the Democratic Party, representing both the progressive ideals of Sanders' presidential campaign and Clinton's more diverse base.
"We're showing that we can bring together the Bernie Sanders wing of the party and the Hillary Clinton wing of the party," Gillum told the New York Times.
As he now moves to the general election, Gillum made it clear on CNN Wednesday that he intends to make this inclusivity a key part of his strategy for November, contrasting his approach against the divisive rhetoric favored by Trump and DeSantis.
"Donald Trump and Ron DeSantis are both scraping from the bottom of the barrel," Gillum told CNN. "I actually believe that Florida and its rich diversity are going to be looking for a governor who's going to bring us together, not divide us. ... They're going to be looking for a governor who is going to appeal to our higher aspirations as a state, who's going to talk about what it means to build a Florida that makes room for all of us and not just some of us."
Gillum is also running on his record — but there's a major liability
In addition to his progressive ideals and broad base of support, Gillum's campaign has also hinged on the candidate's "lived experience," including his 15 years holding elected office and his working-class background.
"I think what we need, more than anything, as the only non-millionaire in this race for governor, is a candidate who reflects what is the real and lived experience of people in this state, and I know what that means," Gillum said in an interview with the Daytona Beach News-Journal. "I know what it means to watch my parents trade between which bills they can pay before something gets cut off. I've seen what it felt like to be at the mercy of free health care in order to get my teeth cleaned. ... I understand what that means not because I've read it, but because I've lived it."
Gillum has served as Tallahassee mayor since 2014; prior to that, he became the youngest Tallahassee city commissioner in 2003 at the age of 23 and served in that position until becoming mayor.
During his tenure as mayor, he helmed a variety of initiatives, including a policing program to improve relations with law enforcement; a "Longest Table" initiative that brings several hundred community members together for dinner and a conversation; and taking on the gun lobby in court — and winning.
Yet there are also blemishes on his record. Gillum drew criticism for publicly sparring with Gov. Rick Scott while Tallahassee citizens remained without power in the wake of a hurricane, initially supported a coal power plant opposed by environmental groups as city commissioner in 2005, and was criticized by the Tallahassee Democrat for entangling his mayoral work with his gubernatorial campaign, which could raise ethical concerns.
The most controversial part of Gillum's Tallahassee tenure is the current FBI probe into possible corruption in the city's government. The FBI investigation, which dates back to 2015 and has so far resulted in subpoenas but no charges, has not implicated Gillum directly; the mayor has said he's been told by the FBI he's not a focus of the investigation.
Gillum has been tied to lobbyist Adam Corey, a central figure in the FBI probe and a longtime Gillum ally, however. The FBI's investigation reportedly includes the city's community redevelopment agency, which approved development deals backed by Corey and Mike Miller, an undercover FBI agent who posed as a developer and sought Corey's help. Gillum has come under scrutiny for trips that he took to Costa Rica with Corey and to New York with Corey and Miller, though the candidate has maintained that the trips were social occasions where he did not discuss business. He also maintains that he paid for all his charges on the vacation himself, and has promised to publicly release receipts.
Gillum said on CNN Wednesday that he hopes any city employee who is found guilty of corruption will be held "fully accountable," but continued to stress his innocence in the ongoing probe.
"I've wanted people to measure me on my merit, on my actions, on my qualifications for the position," Gillum said Wednesday. "What I've never done in my 15 years of public service is compromise on my values; never ever would I ever compromise on who I am as a person and on my oath."
"Should there be individuals that have done anything inappropriately, what we've always said is they should be held fully accountable, but we've pushed that issue past us in this primary and ... we're going to remain focused on the issues that confront everyday Floridians," he said.
While Republicans are likely to use the corruption probe in their fight against Gillum — as the president insinuated in his Wednesday tweet — Gillum has so far been optimistic that his campaign will nevertheless prevail.
"The Republicans will do everything that they can to obliterate me, Gillum told the Tallahassee Democrat and other local newspapers ahead of the primary election. "The difference is when they come after me in the way that they will, it will have the exact opposite effect that they want, particularly for the voters who I very much need to turn out and vote. They will not take lightly to whatever charade the Republicans will try to run as it relates to me."