In praise of Nicki Minaj's 'Queen Radio,' my new favorite thing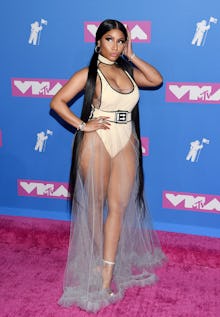 Nicki Minaj is a ridiculous person. That statement is meant to be far more complimentary than pejorative, recent criticisms of her new album's rollout aside. Even so, while one make take issue with the handling of Queen, if you're a fan of the New York City-bred emcee, there is one bright spot in this latest era of her storied career: Queen Radio.
The show, which streams on Beats 1, premiered earlier in August, and in its initial teasing, claimed that it would feature Minaj treating listeners to "favorite cuts," "unfiltered banter" and "surprises and special guests at every turn." That initial episode did indeed feature special guests — a slew of celebrities including Kim Kardashian West, Kelly Rowland, Cassie, actress Lauren London, reality star Draya Michele and model Winnie Harlow, among others. That installment was fine, but it wasn't until the subsequent episodes of "Queen Radio" that the program became essential listening.
Much of that has to do with Minaj, who, when steering the show without the inclusion of her famous friends and colleagues, presents a broadcast that is idiosyncratic, hysterical, vulgar and as bewildering as it is entertaining. Well, that is, if you're an actual fan of Nicki Minaj. If you're not fond of Minaj as a rapper or personality, this isn't for you. In fact, this is the part at which you can flee.
Go ahead: shoo, shoo. Let the rest of us who're members of #TeamMinaj have our moment. We deserve this. It's been a rough time for us (and her) lately.
Now, episodes two and three are better just because it's more Minaj in a calmer setting — which she uses to settle matters like "Barbie Dreams" not being a diss to any rapper named on the track and to honor the legacy of the late, great Aretha Franklin with Alicia Keys. However, it's episodes four and beyond where Queen Radio really starts to shine, because we get Minaj explaining her recent "Twitter meltdown" in a manner that's far more humorous in its delivery than the tweets in question. Thus, the whole thing feels less irritating.
Granted, while I'd personally suggest she let go of her issues with Travis Scott, I cannot help but laugh at her consistently saying, "Ho nigga of the week is of course Travis Scott." And it's tough not to be entertained by Minaj clearly seeing the memes featuring her fighting with his daughter, Stormi, by announcing in jest, "I know you guys are saying me and Baby Stormi have beef. And yes, we do! Now, now, now this is what the fuck is happening today: me against Baby Stormi."
Of course, she continued. "Travis Scott is out here selling fucking clothes, and he got y'all thinking he's selling fucking music," Minaj explained. She went on to add, "What we're not gonna do is have this fucking autotune man come up in here selling fucking sweaters and telling y'all he sold half a million fucking albums, 'cause he didn't."
She doesn't have a problem with Kylie Jenner, though, and kindly instructs folks not to create a "catfight" between the two. After all, she "loves" Kylie, and her big sister, Kim Kardashian West. (Side note: When Nicki Minaj feigned shock that Kardashian West showed up to the studio and the latter basically said, "Yeah, girl, 'cause you invited me," I howled like hell.)
Speaking of, there's quite a bit of yelling on the show, as Minaj announces other categories such as "cocksucka of the day," "queen of the week" and "secret hata of the year." The volume is equally high when it comes to her laughter. Minaj's laugh is incredible. She sounds like an evil villain in an animated series. Like, in some instances, her laugh sounds like Cruella de Vil; other times there are flashes of Gargamel from The Smurfs. Believe me: I'm a ridiculous person myself, so trust me when I say I mean all of this in the best way imaginable.
"Nicki, if you get bored by this whole hip-hop thing, please seriously consider doing 'Queen Radio' daily."
Meanwhile, there are also moments where Minaj randomly breaks into song — I personally appreciate her randomly singing Mariah Carey's "My All" as I like to believe that one day the two will end their rift. There's also a bit of praise and worship, too. "Now I'mma take y'all to church today," she declares. "Shout out to Tasha Cobbs." Not long after, you hear her say "nigga" and "motherfucker." I believe I later heard, "And none of you niggas will ever be my god again."
I personally loved her saying, "I rebuke you naysayers in the name of Jesus," since it reminds me of that hood auntie who just got saved. (Everyone's hood auntie who got saved, as they all act the same — no shade.)
Minaj also tackles sex — and not just by asking, "Now, who wanna suck my pussy?" in between tangents. She is tired of men who "be wanting to cuddle too fucking much." Oh yes, as someone with the gender equivalent of white guilt, who knows men are largely horrible, I enjoy Nicki Minaj going out of her way to berate the men in the studio. "Cut his mic off," she says what feels like every couple of moments. I'll be yelling that to friends at random for the foreseeable feature. Ditto for: "Come here, Ebro, let me slap you on ya neck."
Oh, and: "What I look like rolling a blunt? I'm Nicki Minaj."
There are some things I don't quite understand when listening, though. A prime example would be this: "Shoutout to Margaret Thatcher. Sometimes queens and women of power have to do things that even they aren't happy about doing, but they know it's for the betterment of what's to come and who's to come." Yeah, I laughed, but girl, what?
Same goes for this statement, which is spiked with more than a little paranoia: "They've spent millions of dollars to erase me." That delightfully evil cackle followed, but who are these people who spent all this money to erase her? And why? Why am I even asking? Why does Queen Radio suddenly sound like it's answering the question of "What if Alex Jones had bars?"
As someone who didn't grow up with New York City radio, but nonetheless became familiar with personalities like Star, Buc Wild, Wendy Williams and Miss Jones thanks to the internet and living on the East Coast, I know that Minaj's tone is all her own but she does harken back to those radio shows of yore. I'd say Minaj's Queen Radio reminds me of the short-lived The Wendy Williams Experience that aired on VH1.
To that end, Onika, if you get bored by this whole hip-hop thing, please seriously consider doing Queen Radio daily. And after that, make a talk show. We love Queen Latifah, but her talk show didn't work out so well the first or second time, and if there's any rapper who could one day be truly successful in the format, I am now convinced it's Nicki Minaj.
Seriously, I would listen to Nicki shouting daily about sex and Jesus, bashing men or boasting about eating watermelon on air. I will not miss any opportunity to hear her cover Mariah Carey, tell men to roll her blunt because she's Nicki Minaj or cutting some man's mic off for saying the wrong thing to her.
I never would've known I needed something this absurd in my life. Unsurprisingly, Nicki Minaj has noted that her show is the highest-rated in Apple history. Mama loves her stats, but not as much as I love this show. I hope it never ends.
In sum, "to freedom!"