Thanksgiving 2018 airfare deals: The best time to book a cheap flight for holiday travel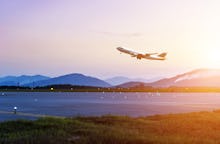 You may still be soaking up the last sweet, humid drops of summer, but the calendar pages are moving full speed ahead. The holidays will arrive before you know it, so to make sure you're not spending an arm and a leg on Thanksgiving travel, Mic dug into some data to pinpoint the best times to book your flights.
On Thursday, Hipmunk released a holiday travel guide that identifies smart ways to save on flights. If you're really savvy, you might consider using this info along with a new feature launched by Google Flights. When you search for holiday flights with the tool, you'll be alerted whether the price you're being offered is low, typical or high. Google makes these calculations based off historical data and prices available in the year so far.
Read on for tips on how to shave off dollars on your Thanksgiving travel.
When to buy
According to Hipmunk's recent report, the best time to book flights for Thanksgiving is the week of Oct. 1. You'll save an average of 23% off peak booking prices.
When to fly
If you're not responsible for any cooking, consider flying on Thanksgiving Day. Hipmunk found that traveling on Thursday will save you 21%, while the most expensive day to fly is Wednesday, the day before Thanksgiving. Flying on Thursday will also grant you the gift of a less crowded airport.
If you can take a little extra time off, Google's findings suggest scheduling your return flight on Tuesday, Nov. 27, or Wednesday, Nov. 28, for some added savings. If your office offers a generous work-from-home policy, that's something to be grateful for this year.
Where to fly
If your destination allows it, consider flying into an alternate airport. Instead of choosing one airport, include multiple airport codes in your search and you're more likely to save. Hipmunk reported that travelers can save 14% on their Thanksgiving tickets when they're more flexible with where they'll be landing.