Jason Van Dyke, officer who killed Laquan McDonald, speaks out in first interview since 2015 arrest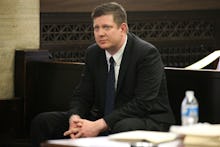 Chicago police Officer Jason Van Dyke, who fatally shot 17-year-old Laquan McDonald in 2014, has spoken out about the case in his first interview since his arrest in 2015. Van Dyke is charged with first-degree murder in the Chicago teen's death and faces trial in September.
"Of course, I'm extremely nervous," Van Dyke told the Chicago Tribune. "I might be looking at the possibility of spending the rest of my life in prison for doing my job as I was trained as a Chicago police officer."
Van Dyke shot McDonald 16 times in various spots on the teen's body, even after McDonald had fallen to the ground. Van Dyke wasn't charged with murder until a year later, in November 2015, when video of the incident was released to the public. In June 2017, three officers were indicted on colluding to cover up the shooting.
In the Tribune interview, Van Dyke said he was simply doing what he was trained to do.
"I never would have fired my gun if I didn't think my life was in jeopardy or another citizen's life was," he said.
Van Dyke said he prays every day for the McDonald family's loss, and expressed regret for how the interaction played out. "I offer up a rosary every day," he said.
McDonald's mother, Tina Hunter, denied the Tribune an interview for the story. McDonald's great-uncle, the Rev. Marvin Hunter, expressed skepticism in regards to Van Dyke's comments and told the Tribune said Van Dyke's interview was a stunt to sway public opinion.
"I don't know the man," Hunter said. "Is he really praying or is he just saying what he thinks you want to hear? They're trying to write a narrative. They're trying to influence the jury. I'm not mad or surprised because it's just legal maneuvers."
Van Dyke considers himself a political scapegoat, according to Chicago Tribune, saying he's been the target of "the bandwagon of hatred" on social media. "I think there's been a lot of external political pressures," he said. "It just seems like politics has been involved with this since the beginning."
Van Dyke is suspended without pay from the Chicago Police Department. Jury selection for the trial will begin the week of Sept 2.