Kanye West: Trump wants "black people to like him" like they did in the '90s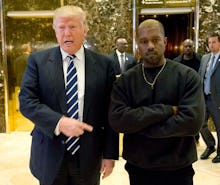 Kanye West returned to the airwaves Wednesday for an interview in which he opened up about his support for President Donald Trump. While visiting the radio station WGCI in Chicago, West answered a question first posed to him by Jimmy Kimmel earlier this month, about whether Trump cares about black Americans. (When Kimmel asked West on the Aug. 10 episode of Jimmy Kimmel Live! if he thinks Trump cares about black people, invoking West's infamous quote about George W. Bush in the wake of Hurricane Katrina, West said he needed time to think about the question.)
"I feel that he cares about the way that black people feel about him, and he would like for black people to like him like they did when he was cool and in rap songs," West told WGCI.
"And he will do the things that are necessary to make that happen. Because he's got an ego like the rest of us and he wants to be the greatest president, and he knows that he can't be the greatest president without the acceptance of the black community. So it's something that he's gonna have to work towards, but we gonna have to speak to him."
He also revisited his reasons for proclaiming "slavery was a choice" while on TMZ Live on May 1, and why he decided to compare himself to Nat Turner and Harriet Tubman on Twitter that same day.
"Four hundred years — it sounds like a choice to me," he said during the radio interview. "It sounds like a choice to the spirit of Kanye West, which I think is aligned with the spirit of Harriet Tubman, which I think is aligned with the spirit of Nat Turner, which in my non-historical opinion I feel that these are examples from the past of people who felt similar to that."
West also apologized for how the slavery comment made people feel.
"I'm sorry for the one-two effect of the MAGA hat into the slave comment, and I'm sorry for people that felt let down by that moment," he said. "And I appreciate you giving me the opportunity to talk to you about the way I was thinking and what I was going through."
All of this comes in the wake of several controversial moments West has made this year, dating back to when he began promoting his newest album, Ye, back in April. For the outspoken entertainer to outright apologize for his slavery comment might be a sign that he's feeling serious backlash from fans.