Who's Sorry This Week? Kanye West, Cardi B and other public apologies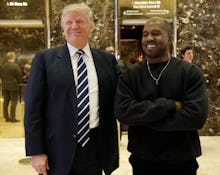 Another week, another deluge of apologies.
In Who's Sorry This Week? Mic tracks down the most prominent mea culpas from celebrities, companies and other public entities trying to make amends for their various screw-ups.
This week had no shortage of apologies, so let's get right to it.
Kanye West is sorry for saying slavery was "a choice"
Earlier this year, rapper Kanye West raised eyebrows and dropped jaws all across the country when he donned a "Make America Great Again" cap, said he and President Donald Trump both have "dragon energy" and then went on TMZ and said slavery was "a choice."
In an interview on radio station WGCI posted Wednesday, Kanye finally apologized. He didn't really say he was sorry for actually saying slavery was a choice, mind you, but for making people mad by saying it.
"I don't know if I properly apologized for how that slave comment made people feel," Kanye said. "So I want to take this moment right now to say I'm sorry for the one-two effect of the MAGA hat into the slave comment, and I'm sorry for people that felt let down by that moment."
When Kanye made the now-infamous comment about slavery back in May, TMZ staffer Van Lathan confronted Kanye for his assertion that these controversial, ahistorical comments were the result of his "free" thinking.
"I actually don't think you're thinking anything," Lathan said to Kanye at the time. "I think what you're doing right now is actually the absence of thought."
In response to Kanye's apology on WGCI, Lathan tweeted, "I think he's genuinely seen how his words hurt people. I think he's genuinely sorry for it. I think he's genuinely still misguided. I think he genuinely has a shoe coming out, and that plays a part. I think all those things can be true, dude's just human."
The U.S. Open is sorry it punished a female player for temporarily taking off her shirt, which was on backwards
Tuesday, during a match at the U.S. Open, French player Alize Cornet returned from a 10-minute break and realized her shirt was on backwards. She turned away from the cameras, took her shirt off, briefly revealing the sports bra underneath before putting the shirt back on right away.
Twitter user @doublefault28 posted a GIF of the incident in question.
Not a big deal, you say? The umpire, at the time, did not agree, and slapped Cornet with a code violation, according to ABC. Apparently, the official rules state that players must change their clothes at the "nearest assigned bathroom." The move drew immediate criticism online, with some noting that men change their shirts on the court all the time and are never punished.
"Alize Cornet came back to court after 10 minute heat break," tennis coach Judy Murray said on Twitter. "Had her fresh shirt on back to front. Changed at back of court. Got a code violation. ... But the men can change shirts on court."
Wednesday, the U.S. Open issued a statement apologizing for punishing Cornet.
"We regret that a Code Violation was assessed to Ms. Cornet yesterday," the statement, posted to Twitter, said. "We have clarified the policy to ensure this will not happen moving forward. Fortunately, she was only assessed a warning with no further penalty or fine."
Azealia Banks is sorry she publicly aired Elon Musk's dirty laundry and accused him of drug-fueled tweeting
The utterly bizarre, captivating drama between rapper Azealia Banks, singer Grimes (real name Claire Boucher) and Grimes' boyfriend/Tesla CEO Elon Musk seems to have temporarily come to a close.
It all started earlier in August, when Banks began posting on her social media accounts that she was wandering around Musk's mansion alone, waiting to meet up with Grimes, with whom she was supposed to record a song. Banks made a series of claims, like saying Musk was on acid when he tweeted he was going to make Tesla a private company, according to the Cut. Banks also called Musk a "beta male who took steroids and got hairplugs to convince himself he was alpha." It's a truly wild saga. I recommend you read up on it.
Sunday, Banks posted an image on her Instagram Story of a letter she said she sent to Musk, according to Billboard.
"I feel terrible about everything," Banks wrote. "I guess I can start apologizing for all of the painful events you've endured over the past week, as I feel as though my actions have largely exacerbated them."
One of the "painful events" Banks is likely referring to is the subpoena reportedly served to Musk over his tweet that he had "funding secured" to take Tesla private, which caused Tesla's stock to soar.
"Over the time spent liaising said collaborations [with Grimes], I was welcomed to a lot of personal information about you," Banks added. "The stuff made me feel awkward and uncomfortable about being privy to you, yet I never had the intentions of ever using the information against you. What started off as a cat-fight lead to some seriously unexpected consequences and I seriously apologize."
Kelli Ward is sorry she implied John McCain's decision to cease cancer treatment was politically motivated
On Saturday, a staffer on the campaign for former state Sen. Kelli Ward — who ultimately lost in Tuesday's primary against Rep. Martha McSally (R-Ariz.) — wondered on Facebook whether John McCain's decision to cease treatment for his brain cancer was a move "to take media attention off [Ward.]"
Just hours later, McCain died. Sunday, Ward blamed #FakeNews for the negative attention she received as a result of her comments.
"I think they wanted to have a particular narrative that they hope is negative to me," Ward responded, according to the Washington Post.
"The Left is hateful, foul-mouthed, and easily misled … please take note of the trolling comments by people who buy into #FakeNews & political smears — or maybe they don't — it could be that they just like any excuse to bully and attack," Ward said, according to the Post.
Monday, Ward apologized, but maintained that her comments had been "misconstrued."
"I do understand how many could have misconstrued my comments as insensitive, and for this I apologize," Ward told reporters Monday, according to CNN. "The intention of my comments were in no way directed at Sen. McCain or his family."
Cardi B is sorry she performed in a skit called "The Real Housewives of the Civil Rights Movement"
Tuesday, on the 55th anniversary of Martin Luther King Jr.'s famous "I have a dream" speech, TMZ released a comedic sketch reportedly filmed in 2015 called "The Real Housewives of the Civil Rights Movement," which features rapper Cardi B as Coretta Scott King.
TMZ's article implies the sketch is recent, saying it's from Off the Rip, a new show from Wild 'n Out star Rip Micheals. The video makes several references to Martin Luther King Jr.'s infidelity.
Bernice King, Coretta Scott King's youngest daughter, responded to the sketch, calling it "repulsive." Soon thereafter, however, Bernice King tweeted that Cardi B had reached out to personally apologize.
"Thank you, @iamcardib, for reaching out to me and apologizing for the skit that aired on @TMZ," Bernice King tweeted. "I look forward to talking with you soon."
Rip Micheals responded to Bernice King's tweet, saying, "The views expressed on "Off The Rip"are of mine. & not @iamcardib In no know way it was it 2 defame your family's legacy."
Riot Games is sorry it's such a terrible place for women to work
In early August, gaming outlet Kotaku published an extensive report on the toxic work culture of Riot Games, featuring detailed interviews with 28 women who have worked or currently work there, most of whom said the company's "bro culture" systemically forced women into the margins.
In the time since the report was published, many women affiliated with the company — best known for League of Legends, a competitive online game that rakes in hundreds of millions of dollars per year, according to PC Gamer — have published their own accounts, expanding on Kotaku's reports of the "dark side" of the company.
Wednesday, Riot finally responded in a meaningful way, publishing an extensive blog post in which it apologized for its toxic work culture, promising it will work to make things right. Those steps include expanding its in-house diversity team, re-evaluating internal lingo for sexism, setting up anti-harassment trainings and establishing a hotline for people to file harassment complaints.
"We're sorry that Riot hasn't always been — or wasn't — the place we promised you," the blog post said. "And we're sorry it took so long for us to hear you. In the days, weeks, months, years to come, we're going to make Riot a place we can all be proud of."