Gov. Andrew Cuomo paused Harvey Weinstein probe in same month of receiving $25K from his lawyer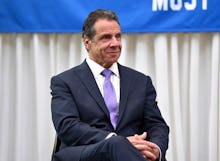 New York Gov. Andrew Cuomo paused the Manhattan district attorney's handling of the 2015 sexual assault allegations against Harvey Weinstein earlier this summer, Capital and Main reported Wednesday.
According to the report, Cuomo halted the probe for six months on June 20, just days after Weinstein's lawyer David Boies reportedly gave Cuomo's campaign $25,000. A Cuomo spokesperson told Capital and Main the investigation was temporarily suspended to avoid interference with Manhattan District Attorney Cyrus Vance's prosecution of Weinstein.
A spokesperson for the firm Boies Schiller Flexner said the timing is merely a coincidence.
"Neither Mr. Boies, nor anyone from his firm, ever discussed Harvey Weinstein or Mr. Vance with Mr. Cuomo, or anyone from his office, at any time," the firm's spokesperson said in an email to Capital and Main. "Mr. Boies is a longtime supporter of Mr. Cuomo and his contribution in June was consistent with his contributions to Mr. Cuomo over years past."
Since 2009, Boies has given Cuomo's campaign funds totaling over $245,000 in contributions.
In May, Vance announced that Weinstein had been charged with two counts of rape and one count of criminal sexual act, for forcible sex acts that allegedly occurred in 2013 and 2004. In October 2017, the New York Times had released a report about Weinstein in which, over the course of three decades, several women in Hollywood alleged that the producer had sexually harassed them. The controversy reinvigorated the #MeToo movement, encouraging other women to tell their stories about sexual assault and harassment.
That same month, it was reported that Boies gave $10,000 to Vance in 2015, after the district attorney's office declined to prosecute Weinstein over sexual assault allegations, the International Business Times reported.