Mic Daily: Kanye West says Trump wants "black people to like him" — and other stories of the day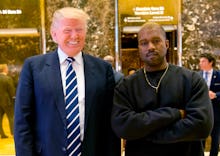 Welcome to Mic Daily: Mic's newsletter that cuts through the noise and lands in your inbox every weekday. We carefully curate each edition to send you a cross section of our most vital stories of the day.
Want more entertainment news in your inbox? Sign up for Hype Daily — Mic's morning entertainment roundup. It's got all the news you need to start your day.
After her daughter Alyssa was killed during a school shooting at Marjory Stoneman Douglas High School in Parkland, Florida, in February, Lori Alhadeff vowed to be an agent of change in the school district that had failed her family and those of 16 other students and faculty members.
On Tuesday night, Alhadeff made good on the first part of that promise by winning the race she entered for a seat on the Broward County School Board. Her platform includes an increased focus on school security and a renewed push to hold administrators accountable for adopting efficient school safety protocols in the wake of the Feb. 14 shooting.
Kanye West returned to the airwaves Wednesday for an interview in which he opened up about his support for President Donald Trump. While visiting the radio station WGCI in Chicago, West answered a question first posed to him by Jimmy Kimmel earlier this month, about whether Trump cares about black Americans.
"I feel that he cares about the way that black people feel about him, and he would like for black people to like him like they did when he was cool and in rap songs," West told WGCI.
President Donald Trump on Wednesday announced White House counsel Don McGahn will leave the administration in the coming months. McGahn will leave the White House after the planned confirmation of Supreme Court nominee Brett Kavanaugh, the president said.
"I have worked with Don for a long time and truly appreciate his service!" Trump tweeted.
Chicago police Officer Jason Van Dyke, who fatally shot 17-year-old Laquan McDonald in 2014, has spoken out about the case in his first interview since his arrest in 2015. Van Dyke is charged with first-degree murder in the Chicago teen's death and faces trial in September.
"Of course, I'm extremely nervous," Van Dyke told the Chicago Tribune. "I might be looking at the possibility of spending the rest of my life in prison for doing my job as I was trained as a Chicago police officer."
We're all guilty of mistakenly throwing away trash in a recycling bin or tossing a paper cup in a disposal meant for plastic.
According to Waste Management, an American trash collecting company, the average recycling contamination rate — or disposal of trash or recyclables in the wrong recycling bin — is 25%, meaning 1 in 4 items thrown in a recycling bin isn't recyclable.
Here are some steps you can take to improve that frustrating statistic.