Transgender gubernatorial hopeful Christine Hallquist is "ready to fight" and win in November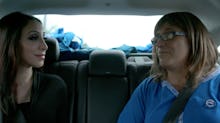 As part of Mic Dispatch, I traveled to Vermont to follow the state's Democratic gubernatorial nominee, Christine Hallquist, leading up to her historic win in the primaries. In August, she became the first out transgender person ever nominated for governor by a major U.S. party.
Mic: In the wake of all of the mass shootings that have been going on, Vermont has passed some gun reform legislation. How do you feel about the legislation that has been passed so far? Do you think it has gone far enough?
Christine Hallquist: I want to commend our legislature on passing those bills and our governor for signing it. I think it was courageous on his part because he's a Republican and he was running on the fact that he would preserve those fundamental rights. But that said, I do think we should have an additional assault weapons ban as well.
Vermont is a blue state, but you currently have a Republican incumbent. Why do you think that is? And what do you think you as a candidate will bring to the table to challenge what Gov. Phil Scott has established?
CH: I can understand why Gov. Scott got elected. You know, he was lieutenant governor for many years. He was a nice guy. And, you've got to remember that was 2016 before Trump got elected, those were different times. I think on Nov. 8, 2016, getting a nice guy governor who is not going to really do too much was probably OK. On Nov. 9, it wasn't. He's actually employed the national agenda, which is going after the public education system and using fear and division as a way to lead.
You've said that you probably would not be running had it not been for the results of the 2016 election. Can you talk a little bit more about why that election lit a fire under you?
CH: We have a despot in the White House and despots use fear and division, and they're going to start picking on the most marginalized community first. You know, that's a systematic attack. We saw that happening, you know, in Germany. Everybody in America should be threatened when any marginalized group is threatened. But, you know, I'm up for the task, I'm ready to fight this battle.
How challenging was it for you to come out as transgender?
CH: I could have lost everything, but it took so long to transition. It took me about 10 years that by the time I transitioned, the laws were there, everything was there. Still thought I'd lose my job but, it turns out when I transitioned on Dec. 2, 2015, Vermont welcomed me with open arms.
Check out episode 14 of Mic Dispatch — only on Facebook Watch.
To catch future episodes of Mic Dispatch, follow Mic Dispatch on Facebook Watch. For more stories about the show, visit the Mic Dispatch collections page.
To learn more about trans issues, check out my weekly column on gender identity, Transplaining.