Hype Daily: Woody Allen's new film is reportedly on hold — and other entertainment news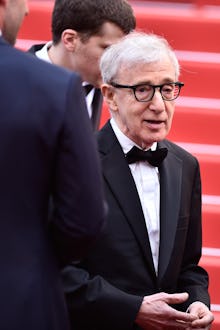 Welcome to Hype Daily, Mic's morning entertainment news roundup. Here's everything you need to catch up on in the entertainment world and what to look forward to today. If you haven't already, subscribe here to receive Hype Daily as an email in your inbox every morning during the week.
Good morning, folks. It's Thursday. Here's some entertainment news to inch you a little bit closer to the long weekend.
Alec Baldwin isn't playing a Donald Trump caricature in the new Batman spin-off after all
The entertainment world was aflutter with news Monday that Alec Baldwin had been cast in the most cringe-inducing pitch for a comic-book movie in recent memory: a Batman spin-off delving into the origin story of the dark knight's longtime nemesis, the Joker.
Baldwin was reportedly set to play Bruce Wayne's father, the wealthy Thomas Wayne, in the spirit of a Donald Trump-style mogul, according to the Hollywood Reporter. Here's the kicker: Joker's being written and directed by Todd Phillips, the guy who directed Old School and The Hangover. Hmm.
Anyway, on Wednesday, Baldwin apparently saw the impending train wreck of a film he had signed on for and disputed the reports of his casting, full stop.
"Let me state, for the record, that I have NOT been hired to play a role in Todd Phillips' JOKER as some Donald Trump manque," Baldwin tweeted. "That is not happening. Not. Happening."
In a more formal statement, Baldwin told USA Today he's "no longer doing that movie."
All right, well, I guess it's not happening!
Amazon has reportedly put Woody Allen's new film on hold indefinitely
In the fall of 2017, filming wrapped on A Rainy Day in New York, Woody Allen's newest movie that was expected to come out sometime in 2018 via Amazon Studios. But now, Amazon is saying there's no scheduled release date.
"No release date has ever been set for the film," Amazon told Page Six.
Though Amazon was tight-lipped on details, the delay on A Rainy Day is almost certainly related to the renewed attention in allegations of sexual misconduct against Allen that has resurfaced in the wake of the #MeToo movement.
In January, Allen's daughter, Dylan Farrow, yet again accused Allen of sexually abusing her as a child.
"He's lying and he's been lying for so long," Farrow said in an interview on CBS. "It is difficult for me to see him and to hear his voice."
Allen has repeatedly denied the accusations. Allen's contract with Amazon reportedly includes three more movies, but none have been announced yet.
Britney Spears looks like she's having fun
If you aren't following pop icon Britney Spears on Instagram and Twitter, hoo boy, you are missing out, my friends. Whether she's singing songs through the chipmunk-ifying veneer of a Snapchat lens or simply posting pictures of her son's Dragon Ball Z fan art, Britney's social media presence is a joy to behold.
On Wednesday, Brit Brit posted an especially surreal, goofy video in which a horde of muscular men — presumably her backup dancers? — have to rouse her from a deep sleep using an ice cream cone. Your fave, truly, could never.
Put this on your radar: First Man
The embargo on critic reviews recently lifted on First Man, a Neil Armstrong biopic starring Ryan Gosling. It's directed by Damien Chazelle, who you'll know as the director of the very polarizing, Oscar award-winning La La Land. Good news for Chazelle: Early buzz on First Man is good.
According to reviewers like Variety's Owen Gleiberman, what makes First Man especially interesting is that it portrays the so-called magic of space flight as anything but magical — instead, showing how viscerally terrifying and precarious flying through a dark void in a hunk of metal actually is.
"The craft [Gosling is] on shakes so violently it feels like it's going to burst apart," Gleiberman said in his review. "It's not just that the ride is more rough and tumble — more starkly terrifying — than anything we've seen in a drama of space flight before. It's that the jittery, combustible energy on display is essentially industrial."
First Man comes out Oct. 12. You can check out the newest trailer, which dropped Wednesday, right here.