Today in Trump's America: Can Trump hold off attacks on McCain at his Indiana rally?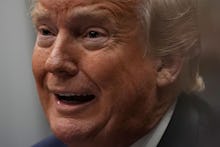 Welcome to Mic's daily read on Donald Trump's America. Want to receive this as a daily email in your inbox? Subscribe here.
Good morning from Emily Singer at Mic.
Here's what's happening in Trump's America:
• Trump is headed to Indiana Thursday to campaign for GOP Senate nominee Mike Braun, who is trying to oust Democratic Sen. Joe Donnelly in a state Trump carried by a wide margin in 2016.
About last night: Betsy DeVos changes rules to bolster rights of students accused of sexual assault
Education Secretary Betsy DeVos is set to announce a new policy to give more rights to students accused of sexual assault, harassment and even rape, the New York Times reported Thursday.
The proposed rules DeVos is set to release also narrow the definition of sexual harassment to lower the legal liability for schools, setting a stricter standard that would make schools accountable only for properly filed formal complaints for incidents that took place on campus.
Men's rights groups have advocated for these changes, arguing Obama-era rules on sexual assault and harassment were unfair to the accused.
In 2011, the Obama administration announced in a letter that, "If a school knows or reasonably should know about student-on-student harassment that creates a hostile environment, Title IX requires the school to take immediate action to eliminate the harassment, prevent its recurrence and address its effects."
If a school did not properly address the accusations, its federal funding was threatened.
DeVos initially announced she was looking into rescinding this guidance nearly a year ago.
In a speech in September 2017, after meeting with men's rights groups, she said she was "exploring all alternatives that would help schools meet their Title IX obligations and protect all students."
DeVos' announcement comes as major universities deal with charges that they did not properly address or rectify longstanding incidents of sexual misconduct and harassment. This includes Michigan State University's long employment of Larry Nassar and Ohio State University's handling of domestic abuse allegations against a now former football team coach as well as a sexual abuse case from the school's wrestling team doctor.
Today in Trump's America: Can Trump hold off attacks on McCain at his Indiana rally?
Attacking McCain's now-infamous thumbs down vote against a repeal of the Affordable Care Act has been a staple in Trump campaign rallies for more than a year.
Now that McCain has died and memorial services are ongoing to celebrate his life, all eyes will be on Trump and whether he will nix the attack at a campaign rally he's holding Thursday night in Indiana.
Trump has had a hard time responding to McCain's passing. For days, he had refused to issue a statement on McCain's life, and he even allowed the flags at the White House to fly at full-staff — ignoring long-standing tradition to keep them lowered until the person being honored was laid to rest.
After backlash from all sides of the political spectrum, Trump caved, once again lowering the flags and issuing a short statement saying he had "respect" for McCain's "service to our country."
Now, speculation is on whether Trump can hold his tongue at his Indiana rally as the country is in the midst of mourning McCain and celebrating his life.
And the rest…
New York Gov. primary debate gets heated: The temperature in the room may not have been the warm 76 degrees Democratic gubernatorial candidate Cynthia Nixon wanted, but the primary debate between Nixon and New York Gov. Andrew Cuomo definitely got heated, as the two candidates lobbed insults at each other at the first and only debate of the cycle. In one of the most tense exchanges, Cuomo asked Nixon to "stop interrupting" to which Nixon responded, "Can you stop lying?" Nixon and Cuomo will face off in the primary on Sept. 13.
White House sheds more staff: Trump fired yet another member of his administration via tweet Wednesday, when he announced White House counsel Don McGahn will leave his post in the fall. The tweet caught McGahn by surprise, the Washington Post reported. McGahn's dismissal comes after reports that he spoke for 30 hours with special counsel Robert Mueller's investigators, who are looking into whether Trump obstructed justice.
Puerto Rico blunder: In a comment reminiscent of former President George W. Bush's infamous assertion that his FEMA director was doing a "heck of a job" as Americans were suffering and dying during Hurricane Katrina, Trump said Thursday his government did a "fantastic" job responding to Hurricane Maria in Puerto Rico — a day after the official death toll from the storm was revised from 64 to 2,975.
Dog whistle politics: Florida's GOP gubernatorial nominee Ron DeSantis is in hot water after he said Florida voters shouldn't "monkey this up" by electing his black Democratic opponent, Andrew Gillum.