EA donates $1 million to the families affected by Jacksonville shooting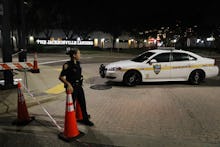 On Wednesday night, Madden NFL 19's publisher Electronic Arts announced the games studio would donate $1 million to the families affected by the mass shooting at a Madden NFL 19 tournament in Jacksonville, Florida.
On Sunday afternoon, David Katz, 24, started shooting players at a Madden video game tournament, killing two people and injuring nine others from gunshots. Several reports have noted Katz's history of anger issues and mental health problems. According to the Washington Post, the shooter had been sent to two separate mental health facilities at the age of 13. Attendees have also criticized the venue's lack of security.
EA said its donation, as well as the funds others donate to them, will go to the families of Taylor Robertson, Elijah Clayton and others affected.
"First, we're making a $1 million contribution to support the victims of last Sunday's events," EA said via Twitter. "We're also working to set up a fund where others can contribute alongside our donations, and we will come back very soon with further details."
Additionally, the company also announced a charity livestream. On Sept. 6, fans of the game will be able to watch the Jacksonville Tribute Livestream in an effort to bring the community together.
"We've heard from so many of you that you would like to support the victims, and to show that this horrific event will not define us, but only serve to make our community stronger," EA said in its post.
The company will share more details as they're available.