In cryptic tweet, Trump suggests that he may have tried to fire Robert Mueller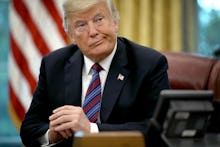 President Donald Trump on Thursday fired off a tweet denying that outgoing White House counsel Don McGahn had prevented him from firing Robert Mueller in 2017.
But the tweet about the White House counsel, which he originally misspelled as "councel," did little to help clarify what happened in June 2017 — or what he may be planning to do with Mueller and Attorney General Jeff Sessions moving forward.
"I am very excited about the person who will be taking the place of Don McGahn as White House Counsel!" Trump tweeted Thursday. "I liked Don, but he was NOT responsible for me not firing Bob Mueller or Jeff Sessions. So much Fake Reporting and Fake News!"
Trump was referring to a bombshell January report that detailed an episode months earlier, in which Trump apparently ordered the firing of the special counsel leading the Russia probe, but backed down after McGahn threatened to resign rather than carry out the directive.
McGahn, who it was announced Wednesday is expected to depart the White House this fall, has reportedly discussed that and other matters related to potential of obstruction of justice with Mueller's team over the last nine months.
In his tweet Thursday, Trump suggests that he may have attempted to fire Mueller and Sessions at some point in the past — though the post is confusing enough to allow for multiple interpretations.
When he says McGahn was "NOT responsible for me not firing" Mueller and Sessions, is he saying that he never attempted to fire the two? Is he saying that he did attempt to fire them, but somebody other than McGahn had intervened? It's unclear.
Also unclear is if he was implying that he could attempt to fire the two under McGahn's coming replacement.
The cryptic tweet Thursday came a day after he announced McGahn would be stepping down "in the fall, shortly after the confirmation (hopefully) of Judge Brett Kavanaugh to the United States Supreme Court."
That tweet on Wednesday evidently took McGahn by surprise, and it came on the heels of an Axios report on the White House counsel's coming departure. According to the publication, McGahn would like White House lawyer Emmet Flood to replace him.
It's not clear who Trump will choose to replace McGahn, and no official reason has been given for his departure, though there have been suggestions that White House senior advisers Jared Kushner and Ivanka Trump had a hand in forcing him out. Trump vehemently denied that his daughter and son-in-law had anything to do with McGahn leaving, tweeting early Thursday that the media "[loves] to portray chaos in the White House when they know it doesn't exist."
"Just a 'smooth running machine' with changing parts!" Trump tweeted.
The announced departure comes shortly after reports that McGahn had met for 30 hours with Mueller over the past nine months. The White House appears to have been unaware of the extent of McGahn's cooperation with the special counsel.
In a separate tweet Thursday, Trump denied that McGahn's ouster has anything to do with the Russia probe.
"The Rigged Russia Witch Hunt did not come into play, even a little bit, with respect to my decision on Don McGahn!" Trump tweeted.