John Legend is funding formerly incarcerated entrepreneurs with his new initiative Unlocked Futures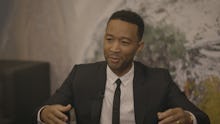 John Legend is a 10-time Grammy Award-winning artist, an Oscar and Tony winner and one of the most recognizable celebrities in Hollywood.
He's also a leading advocate for criminal justice reform. In 2014, Legend launched Free America, an organization that aims to end mass incarceration by raising awareness about the injustices in the U.S. prison system. After touring prisons nationwide in 2015, Legend has embarked on criminal justice campaigns, including an effort to end money bail and another to help elect progressive district attorneys across the country.
One of Legend's most recent initiatives is called Unlocked Futures, an accelerator program that aims to help formerly incarcerated entrepreneurs by providing funding for their ventures. In partnership with Bank of America and a venture philanthropy organization called New Profit, the program awards $50,000 grants to formerly incarcerated entrepreneurs and also provides them with training and mentorship.
Unlocked Futures' goal is to help reduce the high unemployment rate for the estimated 5 million formerly incarcerated people in the United States.
Legend sat down with Mic co-founder Jake Horowitz to discuss Unlocked Futures and how he's using his voice to advocate for criminal justice reform in the Trump era.
Check out episode 15 of Mic Dispatch — only on Facebook Watch.
To catch future episodes of Mic Dispatch, follow Mic Dispatch on Facebook Watch. For more stories about the show, visit the Mic Dispatch collections page.