Key moments from the ugly debate between Andrew Cuomo and Cynthia Nixon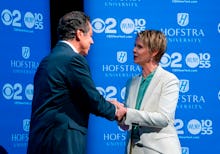 New York Gov. Andrew Cuomo and his Democratic primary opponent Cynthia Nixon met for their first and only debate Wednesday night — a rhetorical boxing match in which both candidates tried to get licks in on each other before the state's Sept. 13 primary.
While Cuomo painted himself as a major opponent to President Donald Trump, who is unpopular in his home state of New York, Nixon focused solely on the sitting governor, painting him as a corrupt politician who has failed the Empire State over his two terms in office.
It's unclear how the debate will impact the upcoming primary. Polls show Cuomo with a double-digit lead, but a mid-September primary taking place on a Thursday could lead to low turnout, which often makes races more unpredictable. The debate at Hofstra University on Long Island also came a day after Tallahassee Mayor Andrew Gillum made history, as the progressive with a similar platform to Nixon came from behind to defeat a slate of establishment candidates to become Florida's Democratic candidate for governor.
"Can you stop interrupting?"
The debate was heated at times, with the most tense moment coming when Cuomo told Nixon to stop interrupting him.
"Can you please stop interrupting? Can you please do that?" Cuomo said, as Nixon piped in as he was speaking.
"If you stop lying, I will stop interrupting," Nixon replied.
"Know me by my enemies"
Cuomo worked hard to highlight the ways he's stood up to Trump since the president was elected, saying New Yorkers should "know me by my enemies."
"No one has stood up to Donald Trump the way I have," Cuomo said, according to the New York Times.
Nixon, however, wasn't buying it.
"You stood up to him about as well as he stood up to Putin," Nixon said, a dig at Trump's cozy relationship with the Russian president and American adversary.
"He used the MTA like an ATM"
Nixon has been criticizing Cuomo's handling of the Metropolitan Transit Authority — which runs the stricken New York City subway system — since entering the race.
New Yorkers who reside in the metropolitan area and who rely on the subway to get around the city have been frustrated by the system's unreliability and major delays that snarl their commutes increasingly over the past year.
Nixon continued that line of attack at Wednesday night's debate.
"He used the MTA like an ATM, and we see the result," Nixon said Wednesday.
An investigation by the New York Times published in November found that Cuomo used million in MTA funding for other projects in New York State, including a $5 million bailout to New York ski resorts.
"You have either incompetence or corruption. Which is it?"
One of Nixon's biggest lines of attack Wednesday night was tying Cuomo to the corruption in Albany.
She hammered Cuomo for ending the anti-corruption Moreland Commission in 2014, and has faced questions about the bribery conviction of Joseph Percoco, one of Cuomo's former top aides. Cuomo largely sidestepped questions on the topic, but Nixon hammered it home.
"You have either incompetence or corruption," Nixon said. "Which is it?"
Sarah Jessica Parker kerfuffle
In one truly head scratching exchange, Cuomo accused Nixon of doing favors for her friends, bringing up an incident he described as "the teahouse for Sarah Jessica Parker."
"That wasn't a favor?" Cuomo said.
"I don't even know what you're referring to," Nixon responded.
"Well, you should read the newspapers," Cuomo said.
This was all cleared by Vogue, who explained Cuomo was apparently referring to Nixon forwarding an email to Mayor Bill de Blasio's team from her friend and fellow Sex and the City co-star Sarah Jessica Parker. Parker was emailing about a complaint from the owner of Tea & Sympathy, a tea shop and restaurant in the West Village that was criticizing fines and shutdowns of local businesses.