A hacker renamed "Manhattan" as "Jewtropolis" on Snapchat, StreetEasy and other apps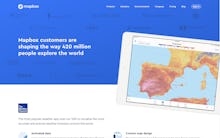 The map sections of Snapchat, StreetEasy and many other apps were vandalized with vulgar hate-speech Thursday morning. Instead of seeing the word "Manhattan" when they looked at New York City, users saw the slur "Jewtropolis" onscreen.
According to a statement released by mapping platform Mapbox, a malicious actor who has attempted other hateful edits was responsible for the hack. The company apologized to customers who were exposed to the slur and ensured that experts were working to find the exact source of the hack. Though the problem was quickly addressed, users were still able to take screenshots featuring the slur and put them online.
In a statement from Snapchat, the social network apologized for the incident. "Snap Map, similar to other apps, relies on third party mapping data from OpenStreetMap, which unfortunately has been vandalized," the company said in an email statement. "This defacement is deeply offensive and entirely contrary to our values, and we want to apologize to any members of our community who saw it. We are working with our partner Mapbox to fix this as quickly as possible."
MapBox maps data from OpenStreetMap, a crowdsourced mapping project that allows numerous mappers to submit data about local roads, cafes, train stations and more. Other apps that lean on Mapbox data include apps by The Weather Channel, Lonely Planet, Tinder and more.
Speaking to TechCrunch, Mapbox's founder and CEO, Eric Gundersen, reassured users late Thursday morning that the hack had been resolved. "This is now 100% fixed and should have never happened," Gundersen said. "It's disgusting."
With Mapbox providing maps to multiple apps, the people responsible for the hack were able to hit many apps at once. Regardless of who attacked Mapbox, the company took full responsibility for the slur appearing on their maps. As Gundersen told TechCrunch, "We're constantly scanning for this, and it's an error on our part [to have missed it]."