'Insecure' season 3, episode 4: Meet the artists behind the songs in "Fresh-Like"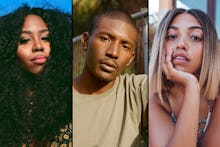 There are so many things to appreciate about Issa Rae's Insecure. The stars! The storytelling! The cinematography! The clothes! The jokes!
The HBO series is known for its celebration of good music — rap, funk and soul are all regular presences and come from newcomers and chart-toppers alike.
To keep up with the music each week for the third season, Mic will compile a list of songs after each episode airs. The fourth episode, of course, featured hip-hop and R&B notables — Jazmine Sullivan, Kurupt and Janelle Monae — and also a new song from Ravyn Lanae, who was featured on this season's premiere. But these weekly lists will focus on lesser-known artists you might not know yet, so let's get to it.
"After the Storm" by Kali Uchis
For Kali Uchis, collaborating with funk legend Bootsy Collins on "After the Storm" was an opportunity she spoke into existence. The Colombian R&B singer told Pitchfork that she discovered Collins while digging through a record collection belonging to her friend's dad. In an interview with Billboard, she revealed he was on her wishlist to work with, and next thing you know, Collins tweeted her to take her up on it.
She then traveled to Ohio and recorded with him. "We just made a bunch of shit and hung out with his whole family on their ranch," Uchis told Pitchfork. Listen to this smooth motivational anthem about self-reliance on Uchis' April debut album, Isolation.
"Basehead" by 03 Greedo
This past April, Rolling Stone deemed 03 Greedo the rapper who's "paving a new road for California rap." The Los Angeles artist told the outlet he wanted to pivot from the regional sound of g-funk, popularized by Dr. Dre in the early 1990s. "There's a new sound out here that is gonna expose how Los Angeles really has been this whole time," he said. Greedo channels influences from all over, that's for sure.
On "Basehead" — from his latest album, God Level, released in June — Greedo borrows Gucci Mane's deep drawl, and on another track called "Mr Clean," he invokes Young Thug's autotune wails. Unfortunately, 03 Greedo's burgeoning career was paused in June as he turned himself in to serve 20 years in prison for drug possession and unlawful possession of a firearm.
"Summer Love" by Black Party
Malik Flint, also known as Black Party, is a triple threat — a singer, songwriter and producer — hailing from Little Rock, Arkansas. He's also a member of Childish Gambino's creative collective, Royalty. His debut project, the Mango EP, was released in November 2016 and featured "Summerlove," a short saccharine ode to simple pleasures that come with falling in love during the warmest season.
"Take a walk around the beach, (yeah yeah)/ Put your feet in the sand, (yeah yeah)/ Don't you be scared, (no no)/ I'll hold your hand, (yeah yeah)," Flint moans. Since then, he's slowly released new work. Last October, he dropped off a three-track EP dubbed Sorry, I was High 2017-2018, and according to his Soundcloud page, another project called "Endless Summer" is coming soon.
"Trap or Die" by Nstasia
If you were looking for the woman's answer to Fetty Wap's 2015 hit "Trap Queen," Nstasia's "Trap or Die" would be just that. It's a spacey love note to a guy who doesn't do 9-to-5s. "If you got me, I got you/ How can we keep it alive?/ No need for no chick on the side," Nstasia sing-raps.
"Trap or Die" is featured on Nstasia's debut solo EP, New Religion. Prior to dropping the project in November 2017, the Asheville, North Carolina, native was getting her name out there by writing for bigger names: She wrote two singles for Macy Gray — "White Man" and "Stop, Drop, Roll" — and unreleased songs for Beyoncé and Usher, according to Fact.
"Sober" (Jarreau Vandal Remix) by Mahalia
The mellow bounce of Mahalia's "Sober" remix, cooked up with Dutch producer Jarreau Vandal, makes breaking up sound a little less traumatic — and it might even make you bust a two-step. It's a bit more lively than the original version (released as a single in July 2017), which is a neo-soul soul groove you can nod your head and sway to.
The 20-year-old from Leicester, U.K., began her career performing at local open mics and by releasing her Head Space EP in July 2012. Her big break came after Grammy award-winning Amy Wadge introduced her to Ed Sheeran. "He tweeted about me and the next thing I knew I was signing to Asylum/Atlantic when I was 13," she told Vibe last October. In 2016, Mahalia finally delivered her debut album, Diary of Me, where her soulful influences Lauryn Hill, Erykah Badu, and Amy Winehouse are evident.