Most of the world's coral reefs are dying. 3D-printed coral may be part of the solution.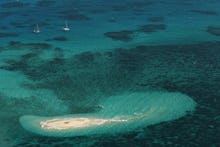 Coral reefs around the world are suffering from widespread devastation. Nearly one-fifth of the world's coral has died in the last three years — and it's predicted more than 90% of the world's coral reefs will do the same by 2050. This ruin has tangible repercussions on humans. Major industries like fisheries and tourism depend on coral reefs, which help provide jobs and food to billions of people. In fact, the economic value of coral reefs is estimated to be worth nearly $3.4 billion.
Coral bleaching, which causes the lightened appearance of coral, is a leading cause for mass reef die-off. Often induced by warmer water temperatures, coral bleaching makes coral more vulnerable to disease and death. A number of solutions to fix the problem have been proposed, including shielding coral from the sun.
But one Australian reef lab hopes to curb the problem of coral devastation through technology — specifically, by 3D-printing artificial coral reefs.
Artificial reefs mimic the characteristics of natural reefs and are often used as habitats for marine life. Coral fragments are sometimes attached, or "planted" on artificial reefs to help grow new populations of coral. According to Craig Downs, executive director of Haereticus Environmental Laboratory, these artificial reefs are typically made of plastic or a combination of ceramic and cement.
In 2013, Reef Design Lab, based in Melbourne, Australia, began constructing reefs by way of 3D-printing technology, designing oyster reefs for restoration efforts in the Netherlands and developing seawalls to provide shelter for fish colonies.
In August, Reef Design Lab submerged its first 3D-printed coral reef, made of ceramic and cement and covered in a number of real coral fragments, off the shore of the Maldives. The goal is for the 3D coral to sustain a new population of coral.
The reef itself was made in a custom-designed coral reef mold and made of several parts that fit together like Legos.
Artificial coral reefs aren't new. In May, New York Gov. Andrew Cuomo announced the first phase of an artificial reef expansion in New York, expanding upon 12 artificial reefs off Long Island made of recycled materials from the de-commissioned Tappan Zee Bridge.
"Long Island's economy thrives when there are fish for anglers to catch and recreational opportunities to explore marine life along the coast," Cuomo said in a statement. "These artificial reefs are an investment in a stronger, more diverse marine ecosystem that will bolster the economy and bring a new purpose to the former Tappan Zee Bridge that will continue to serve New Yorkers for generations to come."
But these artificial coral reefs may not be a long-term solution, or a solution at all, according to Downs. "Any kind of reef is not that great of an idea if the pollution that killed the reef is still there," he said by phone. "If you got rid of the pollution, they'd come back naturally like you wouldn't believe."
And to be sustainable, an artificial reef can't incorporate chemicals harmful to the growth of coral. "The formula of concrete really matters because, in most marine concrete, there's actually active pesticides and heavy metals in it so the concrete doesn't erode away," Downs said. Pesticides have been shown to affect coral reproduction and even result in bleaching.
But Downs thinks 3D-printed reefs could, at the very least, promote awareness of coral reef issues. "It makes a nice tourist attraction for resorts and dive shops and could bring in fish," he said. "But it's not really a coral reef. It's not sustainable. It's not an ecosystem — it's just remnants of survivors."