Obama remembers McCain in stirring eulogy: "We never doubted we were on the same team"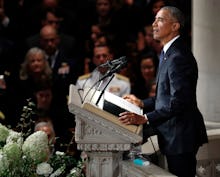 Former President Barack Obama on Saturday praised John McCain as a "warrior, a statesman [and] a patriot who embodied so much of what was best in America," in a eulogy at the late senator's funeral.
"We were standard bearers of different American political traditions. Throughout my presidency John never hesitated to tell me when I was screwing up, which, by his calculation, was about once a day," Obama said at the eulogy. "But for all our differences, for all the times we sparred, I never tried to hide ... the longstanding admiration that I had for him."
McCain's funeral, which came after he was rested in state in both Arizona and the U.S. Capitol, drew family, former presidents, political allies, rivals and celebrities to the National Cathedral in Washington, D.C. McCain planned his own funeral in what appeared to be a call for unity and respect in American politics.
Obama, who defeated McCain in 2008 to win the presidency, has long expressed admiration for the legendary "maverick" — both during their hard fought presidential campaign and after.
During the 2008 Al Smith Dinner, in which presidential candidates roast themselves and one another, Obama remarked that there "are very few of us who served this country with the same dedication, and honor and distinction as Senator McCain." At the same event, McCain praised Obama as "an impressive fellow in many ways" and said it is "not for nothing that he's inspired so many folks in his own party and beyond."
In one of the most famous moments during that campaign, McCain defended his opponent at a rally when one of his supporters told him she "can't trust" Obama.
"I've read about him," she said. "He's an Arab. He is not..."
"No ma'am," McCain said, taking the microphone from her. "He's a decent, family man, citizen, that I just happen to have disagreements with on fundamental issues."
Though they continued to disagree on those issues, Obama and McCain appeared to have a strong working relationship and frequently expressed admiration for one another.
"He's an example of a number of Republicans in the Senate and the House who want to be for something, not just against things," Obama said in a 2013 interview.
McCain selecting Obama, along with former President George W. Bush, to give a eulogy at his funeral has been seen as exemplifying the late senator's ability to maintain strong relationships on both sides of the aisle — something that appears to be increasingly rare in a hyper-polarized Washington.
"We never doubted we were on the same team," Obama said of McCain. "For all of our differences, we shared a fidelity to the ideals for which generations of Americans have marched, and fought, and sacrificed, and given their lives."
Joe Biden, Obama's vice president and one of McCain's closest friends, also spoke at a service for the Arizona senator in Phoenix on Thursday.
"John's code was ageless, is ageless," Biden, who served in the senate with McCain, said Thursday. "John's story was the American story, grounded in respect and decency."
McCain, one of the most towering figures in American politics, passed away Aug. 25 after a battle with brain cancer at the age of 81. The two most recent former presidents were invited to speak at his funeral, but McCain notably did not invite President Donald Trump, with whom he had an adversarial relationship, to attend.
In his eulogy, Obama praised McCain for his "irreverence" and his "humor," along with his service to the United States, which included years spent as a prisoner of war in Vietnam.
"When John spoke of virtues like service and duty, it didn't ring hollow," Obama said. "They weren't just words to him. It was a truth that he had lived — and for which he was prepared to die."
"There's some things that are worth risking everything for — principles that are eternal, truths that are abiding," Obama concluded. "John showed us what that means. For that, we're all deeply in his debt."