'Mic Dispatch': CBD and the science behind it; Christine Hallquist's historic Vermont primary win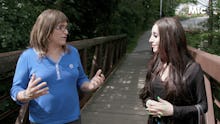 On this edition of Mic Dispatch, we follow Christine Hallquist on primary day — when she made political history by becoming the first out transgender person nominated for governor by a major U.S. party. She won the Democratic primary in Vermont, but she faces an uphill battle in the fall. Hallquist is campaigning to revitalize rural Vermont, raise the minimum wage, institute a "Medicare-for-all" system and provide a tuition-free public college education. She faces a tough opponent in the general election: Her rival, Phil Scott, is a popular Republican governor in a blue state. And Vermont hasn't voted out an incumbent in nearly half a century.
Next up, we look into the burgeoning CBD industry in the U.S. CBD, or cannabidiol, is a compound found in cannabis and hemp. CBD is legal in most states because it doesn't contain the psychoactive chemical THC. But is CBD an actual remedy or is it just the latest health trend? Although many states have legalized the sale of marijuana, medical research on cannabis remains stagnant. CBD is often promoted as a wellness product, but because it's not FDA-regulated, there's no guarantee that the product does what it claims.
Check out episode 14 of Mic Dispatch above — only on Facebook Watch.
To catch future episodes of Mic Dispatch, follow Mic Dispatch on Facebook Watch. For more stories about the show, visit the Mic Dispatch collections page.