George W. Bush on McCain: "His absence is tangible like the silence after a mighty roar"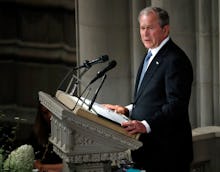 Former President George W. Bush on Saturday hailed John McCain as "unequaled" in a eulogy for the late senator.
"We will remember him as he was," Bush said. "Unwavering, undimmed, unequaled."
"His absence is tangible like the silence after a mighty roar."
McCain, who lost to Bush in the Republican primary in the 2000 campaign, died Aug. 25 after a battle with brain cancer.
He was 81.
McCain's funeral, which came after he was rested in state in both Arizona and the United States Capitol, drew family, former presidents, political allies, rivals and celebrities to the National Cathedral in Washington, D.C. McCain planned his own funeral in what appeared to be a call for unity and respect in American politics.
McCain and Bush were rivals during the Republican primary in 2000 in what was, at times, a notably bitter race.
"Back in the day, he could frustrate me," Bush joked. "And I know he'd say the same thing about me. But he also made me better. In recent years we'd sometimes talk about that intense period like football players remembering a big game. In the process, rivalry melted away. In the end, I got to enjoy one of life's great gifts: the friendship of John McCain. And I'll miss him."
McCain ran as a "maverick" on a promise of reform, with his "Straight Talk Express" gaining momentum with a double-digit upset win over Bush in New Hampshire early in the primary race. But a smear campaign, believed to have been launched by Bush adviser Karl Rove, that suggested McCain had a mixed-race child out of wedlock hurt his campaign in South Carolina.
During a debate, Bush told McCain that he had nothing to do with the racist whisper campaign.
"Don't give me that shit," McCain reportedly told his rival. "And take your hands off me."
Bush would ultimately prevail over McCain and ascend to the presidency.
The two shared a number of political views, but were long seen as having had a strained personal relationship. Nevertheless, Bush praised the war hero and former POW upon his passing, praising him in a statement as a "man of deep conviction and a patriot of the highest order."
"John was, above all, a man with a code," Bush said. "He lived by a set of public virtues that brought strength and purpose to his life and to his country. He was courageous with a courage that frightened his captors and inspired his countrymen. He was honest, no matter who it offended. Presidents were not spared. He was honorable, always recognizing that his opponents were still patriots and human beings. He loved freedom with the passion of a man who knew its absence."
Both Bush and former President Barack Obama, who also eulogized McCain Saturday, were reportedly surprised they were invited to speak at their shared opponent's funeral. Many interpreted the bipartisan funeral as a political message aimed at President Donald Trump, who was not invited to the ceremony and who had an adversarial relationship with the late senator.
"John liked being unpredictable," Obama said during his remarks. "Even a little contrarian. He had no interest in conforming to some prepackaged version of what a senator should be and he didn't want a memorial that was going to be prepackaged either."
"After all, what better way to get a last laugh than to make George and I say nice things about him to a national audience?"