Apple rumored to debut iPhone XS at Sept. 12 event, as speculation swirls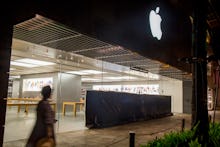 Numerous iPhone X rumors have circulated regarding the next Apple device's features, size and colors. 9 to 5 Mac claims to know exactly what the tech behemoth will bring buyers in September: the iPhone XS.
The veracity of the image below has not been confirmed. But it is visually consistent with previous promotional images from Apple, and MacRumors did publish leaked images in April of an unreleased gold iPhone X — hinting that Apple has recently been toying with the idea of a gold-rimmed phone.
According to 9 to 5 Mac, the XS will feature two display sizes, 6.5 inches and 5.8 inches. Both versions will also have a gold coloring option. (The rim options for the current iPhone X are silver and gray.)
Along with the two iPhones, a third device is rumored to be on its way as well. Rumors point to it being a 6.1-inch iPhone X, featuring an LCD display instead of OLED and, potentially, an aluminum edge, as opposed to the shiny metallic one seen above.
On Thursday, Apple sent journalists invitations to their Sept. 12 announcement event. The invite featured the phrase, "Gather round" with several circles above it — potentially hinting at the theme of what else will be announced, as is often the case with the imagery on Apple event invites.
Although rumors about these devices' details continue to swirl, buyers won't know what's true for sure until Apple's official keynote. The event will take place Sept. 12 at 1 p.m. Eastern in Cupertino, California.