'Mic Dispatch': John Legend on criminal justice reform; Wade Davis on the NFL and LGBTQ issues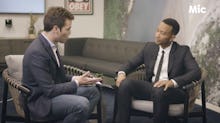 On this edition of Mic Dispatch, we sit down with John Legend — a 10-time Grammy Award-winning artist, an Oscar and Tony winner and one of the most recognizable celebrities in Hollywood. He's also a leading advocate for criminal justice reform. In 2014, Legend launched Free America, an organization that aims to end mass incarceration by raising awareness about the injustices in the U.S. prison system. One of Legend's most recent initiatives is called Unlocked Futures, an accelerator program that aims to help formerly incarcerated entrepreneurs by providing funding for their ventures. In partnership with Bank of America and a venture philanthropy organization called New Profit, the program awards $50,000 grants to formerly incarcerated entrepreneurs and also provides them with training and mentorship.
Next up, we speak with former professional football player Wade Davis, who is perhaps the most prominent out NFLer in the league's 98-year history. Davis — who is now a speaker, activist and educator on LGBTQ issues — is one of just 11 out players out of at least tens of thousands of men who have played, either in training camp or in a game, in the league. Now, Davis works as an LGBTQ consultant for the NFL, speaking at conferences across the country and in locker rooms to facilitate training sessions for teams and coaches around how to create nurturing and inclusive environments on and off the field. We explore what it's going to take for the league to have its first active out player and chat with Conner Mertens, the first active out college football player, about his experiences.
Check out episode 15 of Mic Dispatch — only on Facebook Watch.
To catch future episodes of Mic Dispatch, follow Mic Dispatch on Facebook Watch. For more stories about the show, visit the Mic Dispatch collections page.