Mic Daily: The dark side of California's law ending cash bail — and other news of the day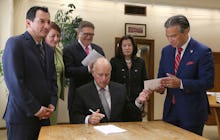 Welcome to Mic Daily: Mic's newsletter that cuts through the noise and lands in your inbox every weekday. We carefully curate each edition to send you a cross section of our most vital stories of the day.
Want more entertainment news in your inbox? Sign up for Hype Daily — Mic's morning entertainment roundup. It's got all the news you need to start your day.
In an interview with Mic, The Handmaid's Tale author Margaret Atwood discussed her new online writing class, Trump's attacks on the freedom of the press — and, of course, what novels she's reading right now.
Democrats in Sacramento, California, celebrated Tuesday when Gov. Jerry Brown signed into law a bill eliminating cash bail throughout the state, a first-of its-kind measure.
But many criminal justice reform advocates who helped brainstorm earlier versions of the bill were devastated by its final approval.
New York Gov. Andrew Cuomo and his Democratic primary opponent Cynthia Nixon met for their first and only debate Wednesday night — a rhetorical boxing match in which both candidates tried to get licks in on each other before the state's Sept. 13 primary.
While Cuomo painted himself as a major opponent to President Donald Trump, who is unpopular in his home state of New York, Nixon focused solely on the sitting governor, painting him as a corrupt politician who has failed the Empire State over his two terms in office.
A group of Asian-American college students suing Harvard University over its alleged anti-Asian-American admissions policies is now receiving support from the U.S. Department of Justice.
The DOJ announced Thursday it had filed a "statement of interest" supporting Students for Fair Admissions, the Virginia-based conservative nonprofit behind the suit, according to the New York Times.
On Wednesday night, Madden NFL 19's publisher Electronic Arts announced the games studio would donate $1 million to the families affected by the mass shooting at a Madden NFL 19 tournament in Jacksonville, Florida.