With "60 Day Rule" approaching, Washington braces for more Mueller bombshells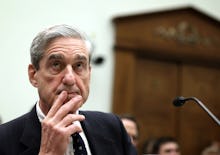 In a letter sent days before the 2016 presidential election, then-FBI director James Comey informed lawmakers — and the American public — that the bureau was reopening its investigation into Hillary Clinton's handling of classified materials.
Investigators had learned of emails that appeared to be "pertinent" as part of a separate probe into former Rep. Anthony Weiner (D-N.Y.). While those emails turned out not to be of significance to the Clinton email investigation, the letter has widely been viewed as having significantly hurt Clinton in the final stretch of the presidential race — which her campaign said broke with department protocol.
Comey would later say he faced two choices: "speak" or "conceal."
While it's debatable that those were his only two options, special counsel Robert Mueller is now likely facing similarly difficult questions.
He's pushing up on the "60-day rule," the unofficial Department of Justice policy that stipulates that investigators should not take any actions within two months of an election to avoid influencing the outcome.
While it's an unwritten rule, and there's debate as to whether it's applicable in this year's midterms, the approaching "deadline" has the political world bracing for what could be a week of major moves from Mueller.
Mueller is not officially bound by the protocol, and his tight-lipped office has not given any indication as to whether he intends to abide by it. But analysts have suggested he may follow the 60-day rule to avoid the appearance of political bias, which President Donald Trump has repeatedly accused him of in his relentless broadsides against the Russia probe.
Rudy Giuliani, the face of Trump's legal team who has called on Mueller to wrap his investigation by early September, has suggested that continuing the probe into the final two months of the 2018 race would amount to a "partisan" attempt to sway the midterms.
"Just a few days before 60 day run-up to 2018 elections," Giuliani tweeted Saturday. "If Mueller wants to show he's not a partisan, then issue a report on collusion and obstruction. They will show President Trump did nothing wrong. Then we will have to admit you were fair. And we will."
It was a self-serving statement from the president's lawyer — implying that they will only view the probe as "fair" if it finds Trump "did nothing wrong," as they've maintained — but one that could resonate with Mueller as he seeks to preserve the image of impartiality of an investigation that has repeatedly been painted as a "witch hunt."
"I can't imagine him taking any action that could be seen as influencing an election," former U.S. Attorney Renato Mariotti told Politico.
That means he's got until Sept. 7 to make any big moves if he follows the guideline.
It's not clear what those moves could be, but Roger Stone, the notorious Republican operative and close Trump confidant, has appeared to be a focal point of the Mueller probe — and the former unofficial Trump adviser has reportedly been bracing for a possible indictment.
Mueller has already brought down a number of others in Trump's inner circle, including Paul Manafort, his former campaign chairman, and Michael Flynn, his former national security adviser. A separate investigation that stemmed from the Mueller probe led to a guilty plea last week from longtime former Trump attorney Michael Cohen, who implicated the president in a pair of campaign finance violations.
The Cohen guilty plea and the Manafort guilty verdict last week has increased the pressure on Trump, whose presidency could be in jeopardy if Democrats make big gains in November.
"November is a referendum on impeachment — an up or down vote," former Trump strategist Steve Bannon told Bloomberg News.
Trump has already accused Mueller of attempting to sway the midterms, tweeting earlier this month that the special counsel's "Angry Dems are looking to impact the election."
"They are a National Disgrace!" he tweeted Aug. 20.
It's not clear that the DOJ guidelines necessarily apply to this election. An inspector general report on Comey's handling of the Clinton email investigation described the unwritten rule as being applying to the "public disclosure of investigative steps related to electoral matters or the return of indictments against a candidate for office within 60 days of a primary or general election." Since Trump is not a candidate in November, it's not clear the guidance applies.
What's more, the 60-day cutoff is largely arbitrary, as former federal prosecutor Joyce Vance observed Friday.
Still, the upcoming two-month mark from the election has led to anticipation of possible Mueller bombshells — and a possible showdown between the special counsel and the Trump team, which has promised to release a counter-report in an effort to undermine investigators.
The unusual counter-report would be an examination as to whether the "initiation of the [Mueller] investigation was … legitimate or not," Giuliani told the Daily Beast.