Hype Daily: NBC allegedly tried to stop Ronan Farrow's Weinstein report, and more entertainment news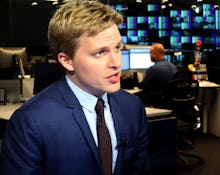 Welcome to Hype Daily, Mic's morning entertainment news roundup. Here's everything you need to catch up on in the entertainment world and what to look forward to today. If you haven't already, subscribe here to receive Hype Daily as an email in your inbox every morning during the week.
Happy Friday, everyone! Before we get to the weekend, let's take a look at some entertainment news, shall we?
NBC allegedly interfered with Ronan Farrow's Weinstein reporting
News broke on Thursday that NBC reportedly tried to stop Ronan Farrow from investigating ex-producer Harvey Weinstein while Farrow was working on the story in 2016 and 2017. Of course, Farrow went on to publish a devastating report in The New Yorker last fall, but the New York Times reported on Thursday that, while he was still at NBC, the network tried to quash Farrow's monthslong investigation into Weinstein's decades of alleged sexual misconduct, a former producer told the Times.
Rich McHugh, a former NBC News producer who worked with Farrow, told the Times the network was "resistant" to Farrow's investigation and eventually seemed to want to end it altogether.
"Three days before Ronan and I were going to head to LA to interview a woman with a credible rape allegation against Harvey Weinstein, I was ordered to stop, not to interview this woman," McHugh told the Times. "And to stand down on the story altogether." NBC disputed McHugh's account, telling the Times there were issues with Farrow's lack of on-camera interviews. Whatever the network's story is, this doesn't look great for NBC.
Awkwafina and Michelle Yeoh might be in another movie together
Fresh off the heels of the blockbuster rom-com Crazy Rich Asians (you should go see it if you haven't already), Michelle Yeoh and Awkwafina are scheduled to appear in another film together. In Crazy Rich Asians, Yeoh plays the intimidating matriarch of the Young family and Awkwafina is the main character's wild best friend.
Now, the two are in talks to appear in Everything Everywhere All at Once, a new "inter-dimensional action film" from Dan Kwan and Daniel Scheinert, directors of Swiss Army Man, Deadline reported Thursday. I'm not sure what an inter-dimensional movie is, but if Yeoh and Awkwafina are in it, I'm there.
Disneyland's new Star Wars Cantina will serve booze
Have you ever wanted to get drunk in a galaxy far, far away? Well, I've got great news for you: The new Star Wars Cantina at Disneyland will serve alcohol, Disney announced Thursday, making it the only place at Disneyland where parkgoers can get a drink.
The place will officially be called Oga's Cantina, according to Disney, and it will offer "choices for kids and libations for adults." Disney also promised that "you never know when a stormtrooper or a familiar face will show up." But don't buy your tickets just yet — the Cantina doesn't open until 2019.
Check out the trailer for My Brilliant Friend
On Thursday, HBO released the first teaser trailer for its upcoming series adaptation of Elena Ferrante's novel My Brilliant Friend, the first of her Neapolitan Novels. You know, those books that it felt like everyone was reading a couple of years ago? The books tell the story of a lifelong friendship between Elena and Lila, two women who grow up together in Naples.
HBO's adaptation of My Brilliant Friend is eight episodes, Indiewire reported, and stars four actresses as Elena and Lila at different ages. It debuts on HBO in November, but you can check out the trailer here.
Put this on your radar: Fall TV
What's the best thing about fall? Is it pumpkin spice? The changing trees? The creeping sense of doom you feel when you realize that the days are getting shorter and darker? No silly, it's fall television. With September right around the corner, it's time to start checking up on your favorite shows, because a lot of them are about to come back.
Your blockbuster reality and talk shows like Ellen and Dancing With the Stars, network dramas like This Is Us, comedies like The Good Place and Bob's Burgers, they're all coming back soon! Check out a list of fall premiere dates here.