Today in Trump's America: Plurality of Americans support impeaching Trump, new poll finds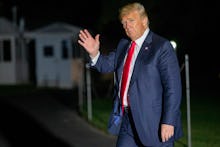 Welcome to Mic's daily read on Donald Trump's America. Want to receive this as a daily email in your inbox? Subscribe here.
Good morning from Emily Singer at Mic.
Here's what's happening in Trump's America:
• Trump is traveling to Charlotte, North Carolina, on Friday. He'll hold one "signing event" for an executive order on "strengthening retirement security in America" before holding a series of high-dollar fundraisers. It's unclear whether that executive order signing was an effort to have taxpayers pay for his fundraising junket, which is being held at a tony country club — with tickets starting at $1,000 and going all the way up to $25,000.
About last night: Trump won't say if McCain would have been a better president than Obama
Trump sat down with Bloomberg News on Thursday for an interview in which he defended his handling of McCain's death, but would not say if he thought McCain would have made a better president than Barack Obama — who Trump has attacked at every turn.
Bloomberg News asked Trump whether he thought he made a mistake by first ordering the flags full staff, despite the fact that McCain had yet to be buried, and waited two days before issuing a short statement that said almost nothing about McCain's service to the country.
"No, I don't think I did at all," Trump told Bloomberg News. "I've done everything that they requested and no, I don't think I have at all."
Of course, Trump's handling of McCain's death earned bipartisan outcry.
Bloomberg News also asked whether Trump thought McCain would have been a better president than Obama, but Trump refused to answer.
"I don't want to comment on it," Trump said. "I have a very strong opinion, all right."
Trump then pointed to White House press secretary Sarah Huckabee Sanders, who he joked was "having a nervous breakdown" because of that response.
Sanders reportedly had multiple conversations with Trump to convince him to honor McCain after his death.
Today in Trump's America: New poll finds Americans support Trump impeachment
A new ABC News/Washington Post poll found 49% of Americans back Trump's impeachment — more than the 46% of Americans who are opposed.
That figures come as Trump makes the argument he cannot face impeachment because he is "doing a great job."
"I don't think they can impeach somebody that's doing a great job," Trump told Bloomberg News on Thursday. "You look at the economy, you look at jobs, you look at foreign, what's going on with other countries. You look at trade deals. I'm doing a great job."
The survey also found Trump's popularity plummeting, with 36% approving of the job he's doing compared with the 60% who disapprove. Even worse, a majority of Americans strongly disapprove of Trump's job performance.
The poll also shows that Trump's attempts to smear special counsel Robert Mueller are failing, as 63% support Mueller's investigation, with 52% strongly supporting it. Even more, Trump's Mueller smear campaign is backfiring, as 53% of Americans say Trump has tried to obstruct justice by meddling in Mueller's investigation.
The survey comes after Trump's former campaign chairman Paul Manafort was convicted on multiple counts of tax evasion and bank fraud, and after his longtime personal lawyer and "fixer" Michael Cohen pleaded guilty to similar charges, as well as an illegal campaign finance scheme that implicated Trump himself.
Mueller has yet to release his full report on his investigation into whether the Trump campaign conspired with Russia to meddle in the 2016 presidential election, as well as whether Trump obstructed justice to try and shut the Russia investigation down. But with the midterm elections now just 67 days away, some are wondering whether Mueller will release his report in the next week, so as not to influence the 2018 elections.
And the rest…
Blue wave? Republicans are already discussing which GOP-held districts and incumbents may be lost causes in the November midterms, and holding discussions about whether to cut off funding for those races months before voters head to the polls, Politico reported.
According to the report, Republicans have identified three members of Congress that Republicans may already be abandoning because they feel their electoral hopes are beyond saving: Reps. Barbara Comstock of Virginia, Keith Rothfus of Pennsylvania and Rod Blum of Iowa.
Comstock represents the Northern Virginia suburbs, with election handicappers already saying her race tilts Democratic. Rothfus is facing off with Rep. Conor Lamb, who won a special election earlier in March, in a race that leans Democratic. And Blum, who holds a seat in northeastern Iowa, is in a toss-up race.