California legislature passes bill requiring public colleges to offer abortion pills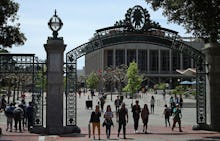 California's public universities are now one step closer to providing medication abortion for students, as a bill requiring public universities to offer abortion pills passed the California legislature.
The bill, which must now be approved by Gov. Jerry Brown, would require student health centers at public universities to offer medication abortion as a "basic health service." The measure would take effect in 2022 and be funded through a College Student Health Center Sexual and Reproductive Health Preparation Fund made up of private, rather than state, funds.
California would be the first state to mandate providing medication abortions at public universities if the bill goes through.
"As the federal government continues to roll back critical health care protections and services for women, I am pleased that California is clearly moving in the opposite direction by strengthening access to safe and timely reproductive health care," California State Senator Connie Leyva, who authored the legislation, said in a statement. "By providing medication abortion services on campus by trained health care providers, students will not be forced to delay medical care, travel long distances or even miss class or work responsibilities."
Medication abortion, which is separate from Plan B or the "morning after pill," consists of two pills taken within the first 10 weeks of pregnancy to induce a miscarriage. Politifact noted the medication typically costs around $600 on average, but might be offered to students at a reduced rate.
A study published by the University of California in December 2017 estimated between 322 and 519 medication abortions would take place on the state's 34 public university campuses each month if the bill goes through. The measure would improve access to a service that students are already obtaining; the study estimated that students at University of California and California State University schools currently undergo 1,038 abortions each month.
The California measure began as a student push to get medication abortion offered on campus at the University of California, Berkeley, before expanding into a statewide effort, ThinkProgress noted. The bill has been backed by a slate of organizations, including the Women's Policy Institute, American Civil Liberties Union, American Academy of Pediatrics and the University of California Student Association. Anti-abortion advocates have decried the measure, along with university administrators concerned about the program's cost.
"At this point, there is one man (the governor) standing between hundreds of thousands of (people wanting) abortion access," Marandah Field-Elliot, a UC Berkeley graduate who was one of three students to help write the bill, told the San Francisco Chronicle. "This bill was built by women. This campaign was built by women. It would feel like an incredible mistake ... to not let this bill become law."