While You Weren't Looking: 5 stories from the Trump administration that aren't about John McCain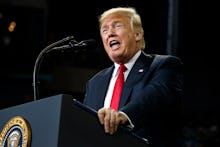 Following a chaotic week that included legal woes from top Trump associates and the death of Trump rival Sen. John McCain — and a resulting outpouring of support from everyone in Washington but the president — Donald Trump spent his week lashing out on Twitter and touting the "great job" he's doing, even as a growing number of Americans appear to disagree.
Behind Trump's blustering, however, his administration continued to push forward, making headway on sexual misconduct policies while officials left the White House in less-publicized departures than that of White House counsel Don McGahn.
Here are five stories from the Trump administration this week you may have missed.
Top student loan official resigns with scathing letter
Seth Froman, the federal official charged with protecting student loan borrowers from predatory lenders, resigned Monday in a damning letter sent to Consumer Financial Protection Bureau Acting Director Mick Mulvaney.
Froman, who served as the CFPB's student loan ombudsman for seven years, accused the CFPB's leadership of making "sweeping changes" that hurt families, including shielding banks from scrutiny when they mistreat their student borrowers and undercutting the CFPB's independence and authority to enforce the law.
"The challenges of student debt affect borrowers young and old, urban and rural, in professions ranging from infantrymen to clergymen," Froman wrote. "Tackling these challenges should know no ideology or political persuasion. I had hoped to continue this critical work in partnership with you and your staff by using our authority under law to stand up for student loan borrowers trapped in a broken system."
"Unfortunately, under your leadership, the Bureau has abandoned the very consumers it is tasked by Congress with protecting," Froman continued. "Instead, you have used the Bureau to serve the wishes of the most powerful financial companies in America."
Department of Education plans new sexual harassment rules
The U.S. Department of Education is planning to issue policies for schools that raise the standard for sexual misconduct charges, according to a New York Times report.
As reported by the Times, the new guidance would hold schools accountable for sexual misconduct allegations only for formal complaints filed through proper authorities, and would only apply to events that occurred on the school's campus. It would also establish a higher legal standard for whether schools improperly handled complaints and narrow the definition of sexual harassment to "unwelcome conduct on the basis of sex that is so severe, pervasive and objectively offensive that it denies a person access to the school's education program or activity."
The new guidance comes after the Education Department rescinded Obama-era guidelines that required schools receiving federal funding to address sexual misconduct instances and defined sexual harassment more broadly as "unwelcome conduct of a sexual nature."
Once the guidance is formally published, it will be subject to a public comment period but will not require congressional approval to go into effect, the Times noted. Unlike the Obama-era guidance, the Trump administration guidelines will have the force of law.
Ethics lawyer leaves White House
McGahn wasn't the only lawyer whose White House departure was announced this week, as White House ethics lawyer Stefan Passantino was also revealed to be leaving the administration.
Passantino, whose last day is Friday, was charged with making sure White House officials complied with ethics rules. The lawyer dealt with such ethical controversies as adviser Kellyanne Conway promoting Ivanka Trump's clothing brand during a February 2017 television interview, NBC News noted.
The Trump administration has long been defined by its ethical conflicts, from cabinet members' lavish spending and ethical scandals to the president's enduring ties to the Trump Organization. A report issued in January by past White House ethics officials described the scope of Trump's legal and ethical scandals as "unrivaled in the modern era, and perhaps in the history of the nation."
Despite his position, Passantino reportedly wasn't free from the Trump administration's ethical concerns: Congressional Democrats previously raised questions about Passantino's past legal work for members of the Trump administration, which could be a conflict of interest.
Lawmaker, White House go after Google following Trump's tweet
President Donald Trump attacked Google searches as supposedly being biased against conservatives Tuesday morning — and Republicans are reportedly following through after Trump said the situation "would be addressed."
Republican Sen. Orrin Hatch sent a letter to the Federal Trade Commission Thursday, asking them to revive an antitrust investigation into Google. The FTC previously closed an investigation into the company in 2013 after finding insufficient evidence that how the company lists search results from rival companies is harmful to consumers, Reuters noted.
White House economic adviser Larry Kudlow also told reporters Tuesday that the White House was "taking a look at" imposing regulations on Google. Courts have previously ruled that Google search results are protected speech under the First Amendment, making it unclear how they could be legally regulated.
Advocacy group attacks Trump's evangelical advisory board
The Americans United for Separation of Church and State accused Trump's evangelical advisory board of violating the law, sending a letter Thursday to government officials that calls for the group to be disbanded until it complies with the Federal Advisory Committee Act. The group also sent Freedom of Information Act requests to obtain documents about the advisory board.
According to the letter, the president's evangelical board "has a 'pretty significant' hand in 'directing or affecting' administration policy," meeting with White House officials on such topics as immigration reform, prison reform and judicial nominations.
Under FACA, presidential advisory boards are required to open all meetings to the public and make all documents available, in order to ensure a board's advice "is objective and accessible to the public." The advisory board has allegedly not been following those procedures; the Washington Post reported that board spokesman Johnnie Moore even denied the group formally exists, claiming that the advisory board term is "slang language that has carried over from the campaign into the administration."
Americans United's letter comes days after Trump honored evangelicals with what was described as "a half state dinner and half campaign rally," in which he told evangelical leaders he had "given [them] a lot back" and falsely claimed there would be "violence" from the left if Democrats win back power during the November midterm election.