What Melania Trump wore her 84th week as first lady — including to plant a tree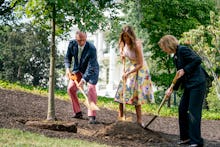 The summer is winding to a close, but first lady Melania Trump is keeping busy. This week, she was in the spotlight several times, including to plant a presidential tree and to meet Kenyan President Uhuru Kenyatta. The last week in August brought busy times for the first lady, especially considering her White House Christmas preparation is already underway.
Let's check in on what Melania Trump wore this week, her 84th week as first lady.
Friday, Aug. 24: A black-and-white ensemble to travel to Ohio
Trump and her husband, President Donald Trump, took a quick trip to Ohio on Aug. 24 to visit Nationwide Children's Hospital (where Donald Trump colored in a picture of the flag) and attend an Ohio Republican Party dinner. Melania Trump wore an all black-and-white outfit, including a white skirt, white stilettos, and a black blouse with white polka-dots.
Monday, Aug. 27: A Valentino skirt to meet the president of Kenya and plant a tree
Trump had a packed schedule on Monday, including entertaining Kenyatta and his wife, Margaret Kenyatta, in the Oval Office. Trump wore a floral skirt from Valentino's 2017 Resort collection, paired with a pink top and Christian Louboutin heels.
And, even though heels aren't exactly the best attire for gardening, Trump had the same outfit on for her other Monday activity: planting a tree on the White House's south grounds. Trump was joined by presidential offspring Mary Jean Eisenhower, a granddaughter of President Dwight D. Eisenhower, and Richard Emory Gatchell Jr., a fifth-generation descendant of President James Monroe.
In a tweet from her official @FLOTUS Twitter account, Trump said, "I had the honor to contribute to the beautiful & historic @WhiteHouse grounds today by planting a sapling from the Eisenhower Oak. Thank you to @WhiteHouseHstry for organizing the #PresidentialSites and to the previous first family descendants who joined us today."
Let's hope someone else (in better gardening shoes) helped finish up the tree planting.
You can read previous recaps of what Melania Trump wore here.