Stories That Pay Off: How much money does Starbucks make off the pumpkin spice latte?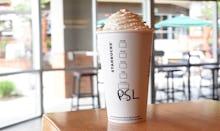 Even though it's not yet fall, Starbucks has made the season's arrival almost official by bringing back its pumpkin spice latte in late August. It seems the coffee giant brings back the PSL earlier and earlier every year, and after exploring the origins of the drink and the profit it creates, Starbucks' premature push for autumn makes a ton of sense.
This week, Mic also explored Goldman Sachs' newest parental-related perk for employees, what happens if — like the Queen of Soul — you don't have a will and why it'd be smart to look into Thanksgiving airfare deals sooner than later.
PSL's popularity has really seemed to soar in recent years — to a point where the pumpkin spice latte seems less like a beverage than a cultural icon. A brilliant marketing strategy has helped the coffee company bring in more than an estimated $1 billion in sales for the drink alone.
Fans were shocked to learn Aretha Franklin didn't leave behind a will. Here's what will happen to her estate — and why you really, really need a will of your own.
Perk competition among companies is heated. What parent-oriented benefits will come next?
New data released this week reveals the best time to book Thanksgiving travel. And it's sooner than you'd think!