How are these female rappers surprised that people are upset with their homophobia?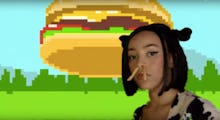 When it comes to use of the slur "faggot," it's not a riddle. Whether you agree with the theory that you can "reimagine" a derogatory term leveled against a marginalized group, it does provide a helpful guide to follow: If you are not a part of the targeted community a given epithet is hurled at, it will never, ever be permissible for you to use it — period, as the "Changing Faces" of rap would say.
It's a late lesson that artist and viral sensation Doja Cat is getting in light of a since-deleted tweet from 2015 that recently resurfaced, in which she refers to Odd Future members Tyler, the Creator and Earl Sweatshirt as "faggots." Three years is not a long time ago. Nonetheless, a lot can happen in any given period due to education and experience, so while I do believe folks ought to be held accountable for the things they say, I understand the sentiment that we cannot always chain people to their thoughts of yore.
Unfortunately, in her initial apology, Doja Cat effectively confirmed she still has quite a ways to go with respect to the way in which she discusses queer people.
In another since-deleted tweet, the multi-hyphenated artist said, "I called a couple of people faggots when I was in high school in 2015 does this mean I don't deserve support? I've said faggot roughly 15 thousand times in my life. Does saying faggot mean you hate gay people? Do I hate gay people? I don't think I hate gay people. Gay is ok."
Doja Cat has since removed that tweet, but I'd like to humor her simplistic line of questioning all the same. No, Doja Cat, using "faggot" alone doesn't mean you necessarily hate gay people. What it does confirm, however, is that while homophobia is ingrained in our society, some folks are more willing participants in its ongoing perpetuation than others.
I'm not entirely sure how Grace from Will & Grace knows Doja Cat, but the public admonishment was necessary:
Doja Cat appeared to nail it by the third apology: "I've used horrible derogatory and hateful words towards people out of ignorance. I just want you guys to know that you're incredibly special and I hold you dearly to my heart. I'm sorry for anyone I've offended or hurt deeply. You all are worth love and support."
Sadly, she wasn't the only female rapper being offensive to the queer community as of late.
Like Doja Cat, Yung Miami of City Girls fame initially dug herself a deeper hole in response to an old tweet that conveyed anti-gay feelings. "Boy Oh Boy. If I Ever See Any Gay Shit In My Son Imma Beat That Bo So Baddd," she tweeted back in 2013. When it was uncovered, she doubled down:
You have to meet folks where they are, so to answer her inquiries online, it's homophobic to say you don't want a gay son because to not want a gay son means you think there is something inherently wrong about being gay. Regrettably, I will say that I understand perhaps why Yung Miami and Doja Cat, along with similar offenders like rappers Megan Thee Stallion and Asian Doll, didn't understand why it was wrong to release these dangerous views into the world.
If you take a look through the comments section of The Shade Room post, you will find many, many, many users echoing her thoughts with many directly suggesting that to be queer is to not be "natural." Moreover, "faggot" is still a pervasive term in popular culture.
Our words have meaning. If you don't get that, find yourself a muzzle and proceed to the nearest corner so the adults can get progress moving. We all need to be better and we all should be good to each other. And all of this chatter about "faggots" coming from women rappers is especially hurtful, given that it's often gay men who first discover these artists and who support them long after the masses flee, anyway.