Hype Daily: What to watch on Labor Day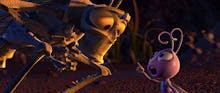 Welcome to Hype Daily, Mic's morning entertainment roundup. Here's everything you need to catch up on in the entertainment world and what to look forward to today. Want to receive this as a daily email in your inbox? Subscribe here.
Good morning all, and happy Labor Day! To celebrate this holiday, which honors the labor movement in the U.S. and the power of workers (in addition to picnics and BBQs), here's a selection of labor-themed movies and new, unrelated movies to go see if you have the day off on Monday.
Obviously you should stay home and stream Newsies
Is there a better movie about the power of American workers than the 1992 Disney musical Newsies? The answer is no, no, there isn't. Newsies, the film that spawned the Broadway musical of the same name, tells the real-life story of the 1899 New York City newsboy strike, except with lots of singing and dancing. It also stars a young Christian Bale in the lead role, if you can believe it. So open the gates, seize the day and watch Newsies on Labor Day, even if you just watched it on May Day.
Or watch A Bug's Life
Even though the ants at the center of Pixar's 1998 film A Bug's Life (not to be confused with Antz) seem to live in some sort of matrilineal monarchy, A Bug's Life is also a film about the power of workers. Yes, the ants must join together to rise up against the oppression of the grasshoppers, who use force and intimidation to profit from the labor of the ant colony. Then, if watching A Bug's Life puts you in a Pixar mood, feel free to check out my list of the gender breakdown of every Pixar movie.
And don't forget Norma Rae
In case I haven't given you enough suggestions for labor-related films, what about the 1979 film Norma Rae, which stars Sally Field as the titular factory worker who helps unionize her workplace. The film was based on the story of real-life organizer Crystal Lee Sutton, and it earned Field a best actress Oscar. Watch this one if you want to go back to work on Tuesday and start a silent protest in your office.
Or actually go to the movies
If you want to get out of the house on Monday and actually go see a movie at a real-life movie theater, there are plenty of options. Kin, an action movie starring Zoë Kravitz, Jack Reynor and Myles Truitt, opened nationwide on Friday. So did the horror film The Little Stranger, which stars Ruth Wilson, Domhnall Gleeson and Charlotte Rampling in a 1940s-set ghost story. And the critically acclaimed John Cho thriller Searching expanded to more theaters over the holiday weekend.
Of course, if you want a thematically appropriate Labor Day movie, go see Boots Riley's surreal Sorry to Bother You if you haven't already.