What makes for an accessible beach? We asked wheelchair users how they plan a day by the water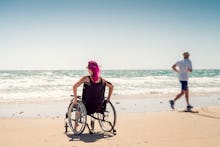 When Karin Willison lived in Los Angeles, traversing the beach path between Santa Monica and Venice beaches was a weekly activity. "I took long walks with my dog, spent time at the pier and met up with friends," Willison, who uses a power wheelchair said, adding that these walks were a big part of her life. "I love the beauty of the ocean, the fresh air and the chance to be in nature."
Visiting the beach is a go-to summer activity, or if you're lucky enough to live in a perennially sunny location, a year-round possibility. But for people with disabilities, a beach day can be a complex challenge that includes research, tough decisions and lots of compromises.
While the United States Access Board has comprehensive guidelines for recreation and outdoor areas, including standards for the number of beach access routes required (at least one) and the width of a "firm and stable" access route surface, figuring out logistics often requires a lot of research at the expense of the wheelchair user.
What to look for when planning an accessible beach day
"It's not just a question of whether the beach is or isn't accessible," Stefan Honisch, a researcher and wheelchair user in British Columbia, Canada, said in an interview. Honisch noted the importance of location and facilities: "Can I be assured that the bus stop near the beach will stop in a place that I feel is physically safe to even get to the beach? Then, will there be wheelchair-accessible washrooms in the area or do I have to shorten my trip to ensure that I can get back to a place where I know they do have wheelchair accessible facilities?"
Even if the beach is in a good location, that doesn't necessarily mean it's easy to get near the water. "The things that I look for the most is if there is some type of way to actually get close and enjoy the space." Willison said. For example, "Is there some sort of path along the water that I can enjoy?" Then, "If I actually want to go on the beach, I look for the availability of beach wheelchairs. The ideal is a power beach wheelchair because then I can control it myself."
Beach wheelchairs feature larger and wider wheels that allow its users to roll across the sand. They aren't offered everywhere, and some require the assistance of another individual.
Parking can be an issue as well. San Diego-based occupational therapist and CEO of Access Trax Kelly Twichel said in an interview that even after identifying a parking spot spacious enough to transfer out of a vehicle and into a wheelchair, the process can still be unpredictable. When individuals have ramps that extend out of their cars, "They really need that handicap space, and it can be frustrating when someone who does not have a disability parks in their spot."
One part of the beach experience that can make for a positive trip is the recreational staff, Willison said. "The human element is really important," she said, adding that interacting with staff and other beachgoers who are supportive and understanding is as important as having adaptive facilities and equipment like large bathroom stalls with enough space to maneuver, supportive handrails and beach wheelchairs.
For beachgoers who'd like to help, Twichel said it's ok to ask if a person in a wheelchair needs assistance. But, she added, refrain from pitching in without asking unless it looks like an emergency. "A wheelchair is part of their personal space," she said.
Where are the most accessible beaches?
Travel blogger John Morris of WheelchairTravel said in an email to Mic that he believes destinations around the world are becoming increasingly accessible. Morris has traveled to more than 30 countries and territories, and cited Barcelona, Spain; Cape Town, South Africa; Melbourne, Australia; and Gibraltar as examples of international destinations with accessible beaches.
Within the U.S. and its territories, Playa Luquillo, or Mar Sin Barreras, located 30 miles east of San Juan, Puerto Rico, features an accessible ramp to the edge of the water, dedicated bathrooms and change rooms. Grommet Island Park in Virginia Beach, Virginia, has 15,000 square feet of oceanfront playground that's designed to be accessible for those with physical, visual and cognitive disabilities. Free beach wheelchairs are also available to rent.
Earlier this year, Mic reported on the world's first fully accessible waterpark in San Antonio, Texas. And in San Diego, California, nine beaches are furnished with beach access mats, manual wheelchairs and power wheelchairs at select locations as part of its beach accessibility and wheelchair program.
Across the Atlantic, Portugal has its Praia Acessivel program, where over 200 of its beaches and rivers are equipped with preferred parking, adaptive facilities and beach pathways. Praia Carcavelos and Praia do Tamariz in Lisbon are among those beaches. In Canada, Vancouver touts a similar program that includes non-slip pathways and water wheelchairs for rent 24 hours in advance.
The best beach resources for people with disabilities
Whether it be a local beach trip or a larger trip, planning in advance is a large chunk of the process.
Twichel and Willison said there is no universal source for determining whether public beaches in America are accessible. To find out if beach wheelchairs are available (and for more information on accessible features and amenities), contact the state or city's parks and recreation department. If traveling to a national park, the National Park Service website lists accessibility information at the "Plan Your Visit" tab after selecting your desired park.
"When encountering natural landscapes, like a sandy beach or a national park, I do so knowing that not everything will be accessible," Morris said. He added that helpful apps and websites like "Toilet Finder and WheelMate help you locate the nearest public restroom, Access Earth, AXS Map and WheelMap provides databases of accessible businesses."
Willison blogs regularly about her travels as a wheelchair user at Free Wheelin' and recommends the blog Curb Free with Cory Lee for accessible travel how-tos and inspiration.
And while the Americans with Disability Act signed in 1990 mandates equal opportunity for people with disabilities across all aspects of daily life across state and local levels, including recreation, accessibility — and to that end, the perfect beach day — is "rarely perfect," Morris said. But, he added, "whatever limits to accessibility do exist do not have to prevent me from enjoying the experience."