Ex-Manafort aide admits to illegally steering foreign money into Trump's inaugural committee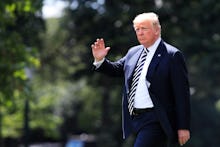 W. Samuel Patten, a Washington lobbyist who was indicted on Friday for failing to register as a foreign agent, admitted to federal prosecutors that he illegally steered $50,000 in foreign funds from a Ukrainian businessman to President Donald Trump's inaugural committee, Bloomberg News reported.
Patten said he steered the foreign money — which is banned from being given to American political groups — from Konstantin Kilimnik, a Russian-Ukrainian political consultant and longtime associate to former Trump campaign chairman Paul Manafort. The $50,000 got Kilimnik four tickets to Trump's inauguration.
Manafort and Kilimnik — who Mueller's team says has ties to Russian intelligence — both face charges of illegally conspiring to obstruct justice for attempted witness tampering.
Patten won't be charged with making the illegal straw contribution, as he agreed to plead guilty to lesser charges in exchange for his cooperation with special counsel Robert Mueller's investigators.
But Patten's admission once again brings the Russian influence campaign closer to Trump himself.
Previous reports show Kilimnik isn't the only prominent Russian who attended Trump's inauguration. The Washington Post reported at the time that a number of people from the Russian elite attended Trump's swearing in, which "caught the attention of counterintelligence officials at the FBI," according to the Washington Post's report.
"FBI officials were concerned at the time because some of the figures had surfaced in the agency's investigation of the Trump campaign's ties to Russia," the Washington Post reported.