Happy birthday, Beyoncé. Thank you for giving us these hilarious viral moments on the #OTRII tour.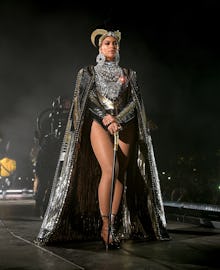 I am no longer a practicing Catholic, but I still believe in holy days of obligation. And every year on Sept. 4, I get down on my knees, place my hands on them, and pop it, pop it, pop it for my lord and gyrator, Beyoncé Giselle Knowles-Carter. Of course, Our Lady of Crawfish Étouffée turned 37 on Tuesday. As I often say, she is the beginning, the end, and the body roll, so we must honor Blue Ivy's mama on this glorious day.
Other than dropping down low and sweeping the flo' with it in her honor, I want to focus on how happy Beyoncé has seemed lately. Obviously, as a member of the ultra 1%, she can afford to be happy living in Trump's America. Her well-earned wealth aside, if you've been an active user of Al Gore's internet, you have noticed that it isn't just opulence that has Beyoncé looking like she's full of joy. I went to the show in New Jersey. Yes, the one that was pushed back for two hours due to a storm. Despite the rain delay, Beyoncé's happiness onstage was palpable — and she has kept that same energy ever since.
It's clear the love that Bey and Jay put into Everything Is Love has translated to the stage. Many of us — myself included — weren't exactly thrilled with the idea of Beyoncé touring with Jay-Z again. (I've since atoned for my sins; Everything Is Love is it.) At the time of the On The Run II tour's announcement, not only did we not have any new music from Houston's premier baddie, we were still reeling from 2016's Lemonade, which chronicled her marital rifts with Jay-Z. Then came Jay Z's 4:44, which served as a response, and though the album is his best work in years, I won't forget that he cheated on Beyoncé.
However, after a fan in Atlanta leaped on stage and tried to physically attack Jay-Z, some of us needed to be reminded that if Beyoncé has forgiven her husband, maybe we shouldn't risk arrest and a beatdown from security for trying to throw hands at Sir and Rumi's daddy. Anyone in attendance of this concert should notice the difference in her.
She has managed to make fun of her husband for having a Rachel Marron moment.
Of course, on the second tour stop in Atlanta, Beyoncé made light of the matter. And she did it again in Orlando.
Goofy Beyoncé is my favorite genre of Beyoncé because that has always been who she has appeared to be at her core. I am elated to see that side of her back on full display. I haven't seen her behave like this since she was a teenager in Destiny's Child.
One Beyoncé critique that has always irritated me is this belief that she doesn't have a personality. For those of us in the Beyhive, we have long known that to not be true. It's not so much that Beyoncé doesn't have a personality as it is that she merely stopped displaying it in interviews. She is a true Virgo — the ultimate perfectionist — and perhaps that's why she seemed somewhat less intimate. However, more recently, that same goofball we saw in those old interviews has resurfaced.
The fans have noticed. Now, it's not my place to say whether in some of these clips that "Beyoncé is higher than a Minnie Riperton note" as some have speculated, but I would like to shout out sativa and add, "legalize it." I actually think Beyoncé is just being goofy.
Mama's out here creating choreography in real time, mocking Bill Cosby's ridiculous ass, and rapping like she's got something to prove.
She is having the time of her life on this tour, and as a fan with a deep love of her, it makes me happy to see. With that said, I wish Beyoncé the happiest of birthdays. May she have all the Popeyes her heart desires or whatever vegan version rich people can create that taste just like it. I do hope by the time she turns 38, I get another new album — one full of thot bops and/or a whole rap album.
I highly doubt she'll give me warning, and I made peace with that, but c'mon nah, birthday girl, the streets need those projects. Also, please keep dancing like this.