This Week in Trump-Russia News: Trump team sweats as anticipation builds over Mueller bombshells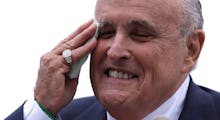 Robert Mueller hasn't released his report yet on Russian interference in the 2016 election, but President Donald Trump's legal team is already preparing a rebuttal.
Rudy Giuliani, the face of the president's legal team, told the Daily Beast on Thursday that he is working on a "counter-report" that will, one would have to assume, align with what Trump has publicly maintained: that there was "no collusion," "no obstruction" and that the special counsel's probe is a "witch hunt."
The unusual counterclaim, which could even be released before Mueller announces his conclusions, is not likely to be impartial, given the source. But it signals that Trump's team plans to continue its campaign to de-legitimize the special counsel, who may be preparing to drop more bombshells as the midterm elections near.
Here's what went down this week in the Russia investigation — and why Trump and his allies may be starting to sweat.
Ex-aide says Trump, Sessions approved Kremlin outreach
George Papadopoulos, the former campaign aide whose drunken comments to an Australian diplomat in 2016 triggered the Russia probe, claimed in a court filing Friday that Trump and Attorney General Jeff Sessions each seemed to approve of his outreach to Russia.
According to the former foreign policy adviser, whom the Trump team has downplayed as having played an "extremely limited" role on the campaign, "Trump nodded with approval" when Papadopoulos proposed setting up a meeting with Russian President Vladimir Putin and Sessions "appeared to like the idea" — contradicting his former sworn testimony.
Papadopoulos, 31, made the claim in a request to serve probation but no jail time for making false statements to the FBI regarding his Russia contacts.
He pleaded guilty to the charge in October, becoming the first known person in Trump's orbit to cooperate with the special counsel.
Mueller last month recommended a six-month sentence for the ex-Trump aide, and Papadopoulos's wife publicly urged him to back out of his plea deal with the special counsel.
He didn't, and his legal team in the court filing Friday painted him as a political newcomer who got in over his head.
Ex-Manafort aide admits to pouring Ukrainian money into Trump inaugural fund
W. Samuel Patten, a Washington lobbyist and associate of former Trump campaign chairman Paul Manafort, was indicted Friday for failing to register as a foreign agent.
The indictment was handed down by the U.S. attorney's office in Washington, D.C., under referral from Mueller.
According to the charges, Patten "knowingly and willfully acted as an agent of a foreign principal, to wit, the Opposition Bloc (a Ukrainian political party) and its members, without registering with the attorney general, whose office in the Department of Justice is located in the District of Columbia, as required by law."
He admitted to illegally steering $50,000 in foreign funds from Ukrainian businessman Konstantin Kilimnik to Trump's inaugural committee.
Kilimnik, who was indicted by Mueller in June, is a Russian-Ukrainian political consultant and longtime associate of Manafort, who was convicted on eight bank and financial fraud charges last month.
Patten's indictment widens the web of associations between figures in Russia and Ukraine and people in Trump's orbit.
It also comes as Manafort waits to hear if he'll be re-tried on the 10 charges a Virginia jury couldn't decide on unanimously in his first trial — and as he faces a second trial later this month in Washington, D.C.
Trump has praised Manafort for seeming to refuse to cooperate with prosecutors, unlike his former attorney Michael Cohen, who pleaded guilty to eight charges, including two campaign finance violations, the same afternoon the former Trump campaign chairman was convicted.
But it was reported this week that Manafort attempted to broker a plea deal with the special counsel ahead of his second trial, but that talks broke down.
It's not clear if he's still seeking a plea deal with Mueller, but such an agreement would likely further increase pressure on Trump.
Cohen lawyer commits unforced error
Meanwhile, Lanny Davis — the attorney representing Cohen — has gifted Trump and his allies with a new line of attack.
The lawyer walked back two explosive claims in the past week he'd made about the president, including one in which he made as an unnamed source about Trump's knowledge of a meeting his son and top advisers took with a Russian lawyer who supposedly had dirt on Hillary Clinton.
CNN reported in July that Cohen had told people close to him he's willing to tell Mueller that Trump knew of and approved Donald Trump Jr.'s 2016 Trump Tower meeting with Natalia Veselnitskaya, a Kremlin-linked lawyer who was believed to have damaging information about the Democratic nominee.
Davis denied being the story's source after it was revealed Cohen had told Congress in 2017 he was unsure about Trump's knowledge of the meeting.
But after several outlets outed him as the source, Davis admitted to Buzzfeed that he was the source and said he'd "made a mistake."
He also said last weekend that he was actually "unsure" if Cohen had information suggesting Trump knew in advance that Russia would hack Clinton and Democratic Party emails, as Davis had claimed after his client's guilty plea.
The two unforced errors seemed to give Trump an opportunity to fight back against investigators after one of the most damaging weeks of his presidency.
Trump bashes Russia probe ahead of "60 Day Rule"
But Trump does not appear to have added digs at Davis's missteps to his repertoire of attacks on investigators just yet, though he has thrown some punches at CNN in recent days on Twitter.
Still, the president seemed to be especially worked up over the Russia probe in recent days as Mueller approaches the two-month mark from the upcoming midterm elections.
Online, he raged over supposed surveillance abuses by federal investigators and claimed that his decision to replace Don McGahn in the coming weeks had nothing to do with the "Rigged Russia Witch Hunt" and that the outgoing White House counsel was not actually responsible for him "not firing Bob Mueller or Jeff Sessions."
In a rally this week, he again threatened to "get involved" in the investigations.
His outrage over the probes comes as Mueller approaches the "60 Day Rule," an unwritten Justice department protocol to avoid taking major steps in an investigation within two months of an election so as to avoid impacting the outcome.
November's midterms will be two months away on Sept. 7, and Giuliani has called on Mueller to wrap up his probe by then.
While it's unclear if Mueller will actually follow the unofficial guideline, which may not even apply in this situation because Trump is not on the ballot this November, the political world is bracing for a potential spate of moves from the special counsel in the coming week.
Meanwhile, Giuliani is working on editing down a counter-report focusing, in part, on whether the "initiation of the investigation was … legitimate or not," the Daily Beast reported this week.
One part of the report will focus on alleged conflicts on the part of investigators, while a second part will address the questions of collusion and obstruction that have formed the basis of the probe.
Giuliani called his report "voluminous" and said Trump is "happy" with the strategy.