Former aide says Trump and Sessions approved attempts to set up Putin meeting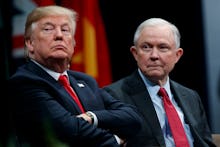 Former foreign policy adviser George Papadopoulos claims in a court filing released Friday night that President Donald Trump and Attorney General Jeff Sessions supported his plan to set up a meeting with Russian President Vladimir Putin — appearing to contradict Sessions' own sworn testimony.
Papadopoulos, 31, pleaded guilty last October to a charge of making false statements to investigators about his contacts with Russia. During a national security meeting in March 2016, Papadopoulos is said to have offered to broker a meeting between then-candidate Trump and Putin.
Trump "listened with interest," according to earlier reports of the meeting, while Sessions "vehemently" opposed such a meeting.
But in a sentencing document filed late Friday, Papadopoulos claims that while "some in the room rebuffed George's offer," both Trump and Sessions seemed to support it.
"Mr. Trump nodded with approval and deferred to Mr. Sessions who appeared to like the idea and stated that the campaign should look into it," the filing reads.
Sessions, who recused himself from matters related to Russia in early 2017, had previously said under oath that he had expressed disapproval of such a meeting, as CNN noted.
Papadopoulos was the first known person to cooperate with the special counsel's investigation into possible conspiracy between the Trump campaign and the Kremlin, along with potential obstruction of justice on the part of the president.
Trump and the White House have downplayed Papadopoulos' importance to the campaign, with the president dismissing him after his plea deal was announced last year as a "young, low level volunteer named George, who has already proven to be a liar."
But despite his supposed "extremely limited" role on the campaign, he represented it on numerous occasions and kept senior-level Trump officials in the know about his relationship-building efforts with Russia.
It was his drunken comments to an Australian diplomat in 2016 about dirt the Russians had on Democrat Hillary Clinton that triggered the Russia probe in the first place.
Mueller in August recommended a six-month prison sentence for the ex-Trump campaign aide. Papadopoulos's wife, Simona Mangiante, publicly suggested that he pull out of the plea deal with Mueller, telling Fox News' Tucker Carlson that she didn't want her husband to be a "sacrificial lamb of the witch hunt."
But Papadopoulos stuck with it, and his legal team on Friday filed a request to be sentenced to probation but no prison time over his false statements charge.
The document paints him as a wide-eyed political newcomer with sky-high aspirations who was "eager to show his value to the campaign" when he brought up a potential Trump-Putin meeting.
His "giddiness" over Trump's apparent approval led him to continue his outreach, according to his story, and soon found himself in over his head.
"To say George was out of his depth would be a gross understatement," the document reads.
In suggesting to investigators that both Trump and Sessions knew about his efforts to broker a campaign meeting with Putin, Papadopoulos is now the second former Trump official in as many weeks to have linked the president to suspicious or criminal acts.
Michael Cohen, Trump's former longtime attorney and fixer, implicated the president in two campaign finance violations as he pleaded guilty to eight charges on Aug. 21.