Trump continues to bash Canada amid NAFTA negotiations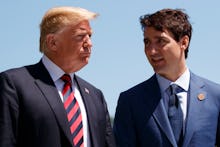 President Donald Trump on Saturday claimed again that Canada has benefitted from unfair trade deals with the United States — a day after candid remarks about his "insulting" posture toward America's ally ignited a firestorm of controversy.
"I love Canada, but they've taken advantage of our Country for many years!" Trump tweeted early Saturday.
The jab came a day after controversial remarks to Bloomberg he claims had been "off the record" leaked to the Canadian press as the two countries sought to negotiate a North American Free Trade Agreement deal.
He told Bloomberg News in an interview published Friday that he would not compromise with Canada and said that he would take a stance "so insulting they're not going to be able to make a deal," according to the Toronto Star.
Trump has railed against the publication of his comments in tweets and public statements, though he did not appear to dispute the substance of his remarks.
During an address during a retirement security event in North Carolina Friday, he reportedly discussed the matter, claiming he "said 'off the record,' and I made a statement about Canada, which is fine because I love Canada but they have taken advantage of our country for many years."
The controversial remarks come amid increased tensions between the U.S. and Canada, in part over trade.
In June, Trump originally indicated he would agree to sign the G7 joint communique, but blasted Canadian Prime Minister Justin Trudeau as "weak" in an attack tweet after he left.
The U.S. and Canada failed to come to an agreement on NAFTA Friday. Trump struck a preliminary deal with Mexico earlier this week, signaling that NAFTA, which Trump has long railed against, could be replaced.
Trudeau on Friday did not say if Trump's comments would impact negotiations between the U.S. and Canada, which will resume next week, but said his country would pursue a path that was a "win-win-win on all sides."
"We will only sign a deal if it is a good deal for Canada," Trudeau said Friday, according to the Star.