Meghan McCain rips Trump in powerful eulogy: John McCain's America "was already great"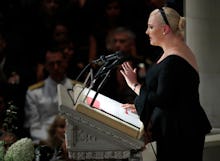 Meghan McCain had a message for President Donald Trump at her father's funeral Saturday morning.
In a stirring and tearful eulogy for the late Sen. John McCain, Meghan McCain combined touching remembrances with several veiled and not-so-veiled of swipes at the president, whom her father insisted not be at the funeral.
"We gather, here, to mourn the passing of America's greatest," she said. "The real thing. Not cheap rhetoric from men who will never come near the sacrifice he gave so willingly, nor the opportunistic appropriation of those who lived lives of comfort and privilege while he suffered and served. He was a great fire who burned bright."
Trump and Sen. McCain, who died on Aug. 25 after a battle with brain cancer, feuded very publicly, starting during the 2016 presidential election. At a 2015 event in Iowa, Trump said of McCain, a former POW, "He's not a war hero ... He was a war hero because he was captured. I like people who weren't captured."
McCain would eventually be the decisive vote in the GOP's desperate attempt to pass legislation to kill the Affordable Care Act, even further drawing the ire of the president. Trump spent the funeral service tweeting about a range of topics, not mentioning McCain or the ceremony.
On Saturday, Meghan McCain referred to Trump's often-repeated campaign slogan "Make America Great Again," during her eulogy.
"America does not boast because she does not need to," she said. "The America of John McCain does not need to be made great again, because America was always great." The last line drew applause.
Her entire speech was a tribute to her father, whom she said was "a great man."
"I am here before you today saying the words I have never wanted to say. Giving a speech I have never wanted to give. Feeling the loss I have never wanted to feel," she said. "My father is gone. John Sidney McCain III was many things. He was a sailor. He was an aviator. He was a husband. He was a warrior. He was a prisoner, He was a hero. He was a congressman. He was a senator. He was a nominee for president of the United States. These are all the titles and the roles of a life that has been well lived.
"Those are not the greatest of his titles, nor the most important of his roles. He was a great man."
McCain's funeral, which came after he was rested in state in both Arizona and the U.S. Capitol, drew family, former presidents, political allies and rivals and celebrities to the National Cathedral in Washington, D.C. McCain planned his own funeral in what appeared to be a call for unity and respect in American politics. George W. Bush and Barack Obama, both of whom defeated McCain in his two runs for president, also delivered eulogies.