Trump rage tweets about NAFTA throughout McCain funeral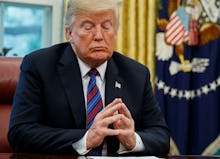 While John McCain's family, friends and former rivals called on Americans to "transcend politics" to uphold the nation's higher ideals, President Donald Trump was on Twitter, lashing out about the Russia investigation and threatening to tear up the North American Free Trade Agreement over disagreements with Canada.
"If we don't make a fair deal for the U.S. after decades of abuse, Canada will be out," Trump tweeted late Saturday morning. "Congress should not interfere w/ these negotiations or I will simply terminate NAFTA entirely & we will be far better off."
The Twitter rant, which also included some standard-issue attacks on the Russia investigation, came after NAFTA negotiations stalled Friday amid controversial comments from Trump — and as the nation mourned the late McCain, whose funeral served partially as a rebuke to the president and his divisive rhetoric and policies.
During the ceremony, Meghan McCain, the late senator's daughter, and former opponents George W. Bush and Barack Obama, who each defeated the "maverick" on their way to the presidency, each took thinly-veiled swipes at Trump, contrasting McCain's "sacrifice" with the president's "cheap rhetoric."
"America does not boast because she does not need to," Meghan McCain said in an emotional address. "The America of John McCain does not need to be made great again, because America was always great."
McCain's funeral, which the late senator planned himself, appeared to be a kind of tribute to bipartisanship, along with a rallying cry to recommit to "the ideals for which generations of Americans have marched, and fought, and sacrificed, and given their lives." It was attended by former presidents, including Obama, Bush and Bill Clinton; politicians on both sides of the aisle; and celebrities, including actor Warren Beatty, who served as a pallbearer.
Trump was not invited, though his attorney, Rudy Giuliani; senior advisers Ivanka Trump and Jared Kushner, his daughter and son-in-law; and chief of staff John Kelly were among the attendees.
Trump and McCain long had an adversarial relationship.
Trump infamously called McCain's war service into question as he began his campaign for presidency, saying in 2015 that the senator was only a war hero "because he was captured."
"I like people who weren't captured," Trump said.
McCain, for his part, was arguably Trump's harshest Republican critic on Capitol Hill and often times a thorn in his side. He cast a decided "thumbs down" vote on Republicans' desperate attempt to repeal the Affordable Care Act in 2017, much to Trump's chagrin, and in a farewell statement written just before his Aug. 25 death warned that we "weaken our greatness when we confuse our patriotism with rivalries that have sown resentment and hatred and violence in all the corners of the globe."
"We weaken it when we hide behind walls rather than tear them down, when we doubt the power of our ideals rather than trust them to be the great force for change they have always been," McCain said in the statement released after his death.
Bush and Obama each offered similar sentiments in their eulogies for their shared former opponent.
Bush, who defeated McCain in the 2000 Republican primary for president, praised McCain as a "man with a code," who was "honest, no matter whom it offended," and noted that "presidents were not spared."
"John detested the abuse of power," Bush said. "He could not abide bigots and swaggering despots. There was something deep inside him that made him stand up for the little guy, to speak for forgotten people in forgotten places."
He added: "If we're ever tempted to forget who we are, grow weary of our cause, John's voice will always come as a whisper over our shoulder: We are better than this. America is better than this."
Obama, who defeated McCain to ascend to the presidency in 2008, lauded McCain as a fierce competitor who was a "patriot" and an adherent to "the ideals for which generations of Americans have marched, and fought, and sacrificed, and given their lives." He also hailed McCain as a symbol of the attempt to "be better, to do better, to be worthy of the great inheritance that our founders bestowed."
"So much of our politics, our public life, our public discourse can seem small and mean and petty, trafficking in bombast and insult and phony controversies and manufactured outrage," Obama said, taking a not-so-subtle jab at Trump. "It's a politics that pretends to be brave and tough, but in fact is born of fear. John called on us to be bigger than that. He called on us to be better than that."
Trump, who spent the day at his Virginia golf club, initially issued just a brief tweet offering condolences to McCain's family immediately after his death and lowered flags at the White House to half-staff that evening. But amid criticism for his lacking response, and for returning the flags to full staff so quickly after McCain's death, he issued a longer statement two days after his passing.
"Despite our differences on policy and politics, I respect Sen. John McCain's service to our country and, in his honor, have signed a proclamation to fly the flag of the United States at half-staff until the day of his interment," Trump said in a statement Aug. 27.
Trump did not appear to mention McCain in any public statements or tweets before or during his funeral Saturday.