Dexter Lotz, man who was attacked on San Francisco Muni train, said he nearly lost consciousness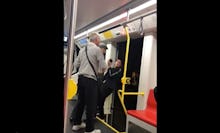 San Francisco native Dexter Lotz was on his way home from a fun-filled afternoon with friends and family in Dolores Park on Thursday. The 21-year-old, who works at a local deli, left San Francisco's Mission District, taking the N-Judah train alone back to his place in the outer Sunset neighborhood in the Bay Area. Playing some XXXTentacion on his speaker, he was getting ready to get off the train around 31st Avenue.
That's when a heavy-set man wearing a hat and beard, who has yet to be identified, approached him. Lotz had noticed that the man was looking at him throughout the ride. He figured it was about the music he was playing on his speaker.
"Are you getting off on this stop?" the man asked.
"That's none of your business," Lotz replied.
The man continued to inquire but Lotz wouldn't reveal anything.
"So what are you going to do about it?" Lotz finally asked, defending himself against this man's questions.
At that point, the man attacked him, Lotz said. Cellphone footage — recorded by Lisa Northcutt, a 29-year-old witness to the incident, and given to this reporter — shows him holding Lotz down against the seats in a chokehold. On social media, people are starting to refer to this incident as #MuniMark and #MuniMatt in light of the wave of incidents in the Bay Area where white women called the police on black people for non-emergency matters. In June, Alison Ettel — later dubbed #PermitPatty — threatened to call the police on an 8-year-old girl selling water without a permit. In May, Jennifer Schulte aka #BBQBecky called the police on two black men who were barbecuing in Oakland's Lake Merritt. But this situation goes much further in that it involved clear physical violence.
Lotz is considering a civil case against the San Francisco Municipal Transportation Agency. According to San Francisco Police Department, they received several calls about the incident before they arrived on the scene. The second man involved in the altercation had not been found. It's currently an ongoing investigation.
"This is very disturbing video," Paul Rose, spokesperson for SFMTA, said. "We are working with SFPD to fully investigate this matter. We are providing the surveillance video from the train to SFPD for the investigation."
During the altercation, two men tried to forcibly remove Lotz from the train, and the way Muni stops are set up, oncoming traffic could've easily struck Lotz if they were successful. Eventually Lotz started fighting back. He says he punched the heavy-set man in the face, prompting him to walk away. He kicked the white-haired man off of the train. Lotz said he remembers three men getting involved in the altercation and that he almost lost consciousness more than once.
"I've never experienced that before," Lotz said in an interview with Mic. "Things started going black. I couldn't see anything."
Lotz, whose father is Guyanese and mother is of German descent, said they threw his belongings and scattered them on the train. This included his Samsung Galaxy 9 phone, speakers and headphones. They threw his skateboard off of the train. In the video sent from the scene, you can hear witnesses screaming: "He's just a kid!" "Over music, really?!"
"I was scared," Northcutt said in an interview with Mic. "I wanted to help the kid out, but it was three bigger men fighting on the train. I thought maybe I should just take out my phone and record it. I knew whatever was going on was wrong, but maybe I could use this video to help him later."
But that skateboard belonged to his friend, and he needed to get it back. He scrambled to get his belongings and got off on the next stop so he could backtrack and find it.
Lotz said police approached him when he got off the train and ordered him to the floor and handcuffed him. The police also questioned the heavy-set white man; he was not in handcuffs. When Lotz asked why he was in handcuffs and not the initial aggressor, police told him that reports claimed that Lotz was the aggressor.
"When I got off the bus, it seemed that everyone was looking at him like he did something wrong," Northcutt said. "Nobody was trying to help him. It seemed to make him even more upset."
Before the altercation, Lotz said he had a broken ankle. Now, it's feeling much worse, making his shifts at the deli that much more difficult.
The police told him that he could press charges, but that the heavy-set man could also press charges. At this point, that's not a battle Lotz feels is worth fighting.
"I don't want to have to deal with that," he said. "Although this was pretty bad, I'm used to these types of interactions from people like him."