Coming up this week in politics: Kavanaugh's hearing begins and Mueller investigation faces deadline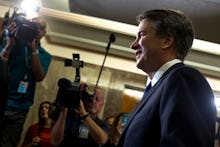 As Labor Day weekend passes, Washington, D.C., is set to usher in the fall with a busy and consequential week.
U.S. Supreme Court nominee Brett Kavanaugh's Senate confirmation hearing will kick off this week, as Congress returns to Washington to take on government spending and other hearings.
This could also be an important week for special counsel Robert Mueller, who faces a looming deadline to release information about his ongoing investigation about the Trump campaign's ties to Russia ahead of the November midterm election.
Here's what to expect from the political world in the week ahead.
Kavanaugh hearings: Brett Kavanaugh's Senate hearing will begin Tuesday, bringing the controversial and largely unpopular nominee one step closer to the Supreme Court. Kavanaugh will be introduced during his hearing by former Secretary of State Condoleezza Rice, Sen. Rob Portman (R-Ohio) and liberal lawyer Lisa Blatt, and the hearing is expected to last three to four days.
Witnesses speaking in support of Kavanaugh will include former solicitors general Paul Clement and Theodore Olson; former clerks and students of Kavanaugh's; and law professor Akhil Reed Akbar, who penned an op-ed entitled "A Liberal's Case for Brett Kavanaugh."
Democratic witnesses speaking against Kavanaugh's nomination will include university professors testifying how Kavanaugh could impact major issues; the legal guardian of an undocumented teen who sought an abortion, which Kavanaugh ruled on in district court; and John Dean, who served as White House counsel during the Richard Nixon administration.
The Supreme Court nominee's confirmation will ultimately be up to a small handful of swing vote senators, including Republican Sens. Susan Collins and Lisa Murkowski, and Democrats facing re-election in red states. Democrats have long sought to delay Kavanaugh's nomination over both President Donald Trump's legal woes, which Kavanaugh could rule on, and the incomplete release of Kavanaugh's documents from his tenure in the George W. Bush administration.
The Trump administration announced Friday it was invoking presidential privilege to withhold 100,000 Kavanaugh documents from senators, which Senate Minority Leader Chuck Schumer decried as "[having] all the makings of a cover up."
Russia investigation: The Mueller investigation could issue some bombshells this week, as the special prosecution team faces an informal deadline to release information ahead of the November midterm elections. On Friday, the "60-day rule" will take effect, an unofficial Department of Justice policy suggesting that investigators not take major actions within 60 days of an election that could influence an election's outcome.
The impending deadline seemingly has made the Trump administration nervous; Trump has been lashing out against the investigation on Twitter, while lawyer Rudy Giuliani said he's preparing a "counter-report" aimed at refuting the special counsel's claims and attempting to delegitimize the investigation.
This week will also include the sentencing of former Trump campaign adviser George Papadopoulous, who pleaded guilty to making false statements to the FBI. Papadopoulous requested to serve probation but no jail time in a court filing Friday, which also included a claim that Trump and current U.S. Attorney General Jeff Sessions appeared to approve of Papadopoulous' Russian outreach during the campaign.
Congress: Congress will be back in full swing this week, as the House of Representatives returns from their August recess. Lawmakers are expected to get to work on the federal budget as they return to Washington, as the current spending bills are set to expire Sept. 30. The spending fight could potentially lead to a showdown between Congress and the White House — and potentially a shutdown — as Trump has been adamant that Congress fund his border wall and controversial immigration policies.
Kavanaugh's confirmation also won't be the only Senate hearing taking place this week, as leaders from Facebook and Twitter are slated to testify on their efforts concerning political content. Facebook COO Sheryl Sandberg and Twitter CEO Jack Dorsey will testify before the Senate Intelligence Committee Wednesday; Dorsey is also slated to appear before the House Energy and Commerce committee to discuss the company's "algorithms and content monitoring."
Google parent company Alphabet has also been invited to testify but will not commit to making CEO Larry Page available, Barron's noted.
Primary elections: Voters in Massachusetts and Delaware will head to the polls this week as the campaign season for the November midterm election enters its home stretch. The elections include Massachusetts' gubernatorial race and House and Senate elections, including Republican candidates' fight to take on U.S. Sen. Elizabeth Warren.
Democratic candidates in both states will also hope to follow in the footsteps of recent progressive victors Alexandria Ocasio-Cortez and Andrew Gillum in New York and Florida, respectively, by taking on establishment candidates. Boston City Council member Ayanna Pressley is mounting a bid to defeat longtime Democratic Rep. Michael Caputo in Massachusetts' 7th District, which includes Cambridge and parts of Boston; Pressley would become the first black woman elected to Congress in Massachusetts if elected. In Delaware, U.S. Air Force veteran Kerri Evelyn Harris could become the first LGBTQ Delawarean elected to federal office if she defeats longtime U.S. Sen. Tom Carper.
Trump's agenda: Trump will hit the campaign trail again this week, as he heads to Billings, Montana, Thursday for a rally in support of Republican U.S. Senate candidate Matt Rosendale. The candidate is challenging incumbent Democratic Sen. Jon Tester for his U.S. Senate seat in the November midterms. Trump is also expected to head to Sioux Falls, South Dakota, Friday for a private fundraiser supporting gubernatorial candidate Rep. Kristi Noem, Keloland News reported.
Back at the White House, Trump will meet with the leader of Kuwait Wednesday, where the two are expected to discuss an ongoing dispute between Gulf of Arab nations. The dispute concerns several countries' 2017 decision to cut ties with Qatar, a move Trump took credit for. Trump previously met with the Kuwaiti emir in September 2017; the president called Emir Sabah Al Ahmad Al Sabah a "very special person" but complained that the leader had a larger plane than Trump's.