Sen. Lindsey Graham acknowledges that Brett Kavanaugh could overturn 'Roe v. Wade' on Supreme Court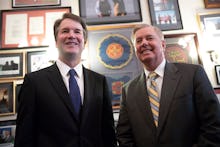 As the Senate prepares to begin hearings on U.S. Supreme Court nominee Brett Kavanaugh Tuesday, one Republican Senator acknowledged that what abortion advocates most fear if Kavanaugh takes the bench could come to pass.
In an interview Sunday on CNN's State of the Union, Sen. Lindsey Graham (R-S.C.) was asked how he felt about Kavanaugh's potential ability to overturn Roe v. Wade on the Supreme Court, as the senator is both an anti-abortion advocate and someone who respects legal precedent. Though Kavanaugh said during his district court hearing he believes Roe v. Wade is the "binding precedent of the court," abortion advocates expect that Kavanaugh would provide the deciding vote to overturn the landmark decision, which upheld a woman's right to undergo an abortion.
"Here's what I hope he'll do: If there's a case before him that challenges Roe v. Wade, that he would listen to both sides of the story, apply a test to overturn precedent," Graham said Sunday. "Precedent is important, but it's not inviolate."
"The bottom line here is there's a process to overturn a precedent, and I think he understands that process [and] he will apply it," Graham continued. "If it were up to me, states would make that decision, not the Supreme Court, but it is a long-held precedent of the Court. It will be challenged over time, and I hope he will give it a fair hearing and I know he will."
Graham's acknowledgement that Kavanaugh could overturn Roe v. Wade comes as his colleague Sen. Susan Collins (R-Maine) has pointed to Kavanaugh's respect for precedent to seemingly suggest the judge would keep Roe v. Wade intact. The Maine senator, a pro-abortion Republican considered to be a key swing vote on Kavanaugh, appeared to signal support for Kavanaugh recently when she highlighted the nominee's description of Roe as "settled law."
"I ... was pleased to learn that Judge Kavanaugh believes, as I do, that Article III of the Constitution was intended to include the concept of precedent and that he sees precedent as much more than simply a matter of practice and tradition," Collins said in a statement following an August meeting with Kavanaugh. "In addition, he expressed agreement with Chief Justice Roberts' confirmation hearing statement that Roe is settled precedent and entitled to respect under principles of stare decisis."
Despite Collins' faith in Kavanaugh, however, the U.S. Supreme Court does have the power to overturn precedent and invalidate Roe v. Wade, something that abortion advocates, Democrats — and now Graham — have been quick to acknowledge.
"Everything the Supreme Court decides is settled law until a majority of the Supreme Court decides to unsettle it," Senate Minority Leader Chuck Schumer said in August in reaction to Collins' comments on Kavanaugh. "Conservative justices have a habit of saying something is settled law during their confirmation and then overturning the minute they get on the bench."