As Brett Kavanaugh's Supreme Court hearing begins, here's the latest on how his Senate vote could go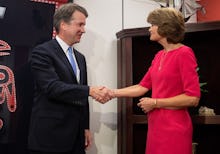 U.S. Supreme Court nominee Brett Kavanaugh's senate hearing is set to begin Tuesday, bringing the judge one step closer to a lifetime appointment to the country's highest court.
If appointed, Kavanaugh could cast deciding votes on such issues as abortion rights, civil rights, health care and more. But his potentially critical influence has led many Americans and advocacy organizations across the country to speak out against him. Kavanaugh's nomination has the lowest public support of any Supreme Court nominee since 1987.
Kavanaugh's fate ultimately rests in the hands of the U.S. Senate, and with most votes expected to fall on party lines, it will ultimately be a handful of swing-vote senators who determine whether or not he gets appointed.
Here's the latest on how Kavanaugh's senate vote could play out.
Swing-vote senators to watch
Kavanaugh's appointment will rest on two Republicans and a collection of Democrats who still remain undecided on the nominee.
The key Republicans who may vote against Kavanaugh's nomination are Sens. Susan Collins (R-Maine) and Lisa Murkowski (R-Alaska), whose moderate, pro-abortion-rights stances could potentially lead them to oppose him.
Whether that will happen, however, remains to be seen. Collins appeared to lean toward supporting Kavanaugh following a meeting with the nominee Tuesday, as she touted his view of Roe v. Wade as "settled law," seemingly suggesting he would not vote to overturn the landmark abortion decision.
Collins' Senate colleagues on both sides of the aisle have pointed out that Supreme Court justices can easily overturn past decisions, and abortion rights advocates believe Kavanaugh would provide the deciding vote to overturn Roe or significantly weaken abortion rights.
Murkowski has remained more tight-lipped about her views on Kavanaugh, saying after a meeting with the nominee that she had a "substantial conversation" with Kavanaugh but her vetting process "has not concluded."
In addition to winning over Collins and Murkowski, Democrats' efforts to block Kavanaugh's nomination will also rest on whether Democrats in states that voted for Trump in 2016 — particularly those facing re-election in November — defect and support the nominee.
Sens. Joe Manchin (D-W.Va.), Heidi Heitkamp (D-N.D.) and Joe Donnelly (D-Ind.) were the sole Democrats to support Justice Neil Gorsuch's Supreme Court appointment. All three are facing re-election in November and remain undecided on Kavanaugh.
"Before making a decision, I needed to meet with Judge Kavanaugh, as I did today, and I will closely study his answers at his Senate hearing," Heitkamp said in a statement following her meeting with the nominee in August.
"I'll also continue reviewing his record," she continued. "North Dakotans expect more of their elected officials than partisan judgements. Politics should not be part of the vetting process or the decision-making process. Determining who should serve on the U.S. Supreme Court is too important."
All three senators met with Kavanaugh prior to his Senate hearing, and Manchin said he plans to meet again with the nominee after the Senate hearing before making a final decision.
Red-state Democrats who voted against Gorsuch but face re-election in November are also being closely watched for their views on Kavanaugh — particularly Sen. Claire McCaskill (D-Mo.), whose race in November is currently considered a "toss-up" by RealClearPolitics.
"People say, oh, she's trying to figure out how to vote, it will help her in the election," McCaskill said during a campaign stop in August, as quoted by the Wall Street Journal. "I don't believe there really is one side that is better than the other 'politically.' So in a way it's kind of a blessing, it frees me up to do the right thing."
Sens. Jon Tester (D-Mont.) and Bill Nelson (D-Fla.) are two other red-state Democrats facing re-election that remain publicly undecided on Kavanaugh. Both are expected to meet with the nominee following his Senate hearing this week.
One potential Democratic wild card when it comes to the Kavanaugh vote is Sen. Doug Jones, who hails from deep-red Alabama and has no Supreme Court voting record, as he took office after Gorsuch's vote.
Jones has said he plans to meet with Kavanaugh after his Senate hearing, but has expressed concern over the quick pace of Kavanaugh's nomination, given the slow release of Kavanaugh's documents from his time in President George W. Bush's administration and President Donald Trump's current legal woes, which Kavanaugh could one day rule on.
"The issue for me is simply that I am going to do what I think," Jones told the Birmingham Rotary Club at an event in August, as quoted by AL.com. "I haven't made up my mind yet. It could go either way, I don't know."
"Because I believe that the Senate of the United States has a shared responsibility for Supreme Court nominations," Jones continued. "It's an independent, shared responsibility with the president. Frankly, advice and consent has been ceded. The president didn't need advice from the Senate before he did this, but he needs our consent. Well, that's not my job to just rubber stamp, me or anybody else."
Every Senator will count when it comes to Kavanaugh's vote, which needs a simple majority of votes to pass. Following the death of Sen. John McCain, Republicans hold a 50-49 majority in the Senate, meaning they cannot afford to lose any votes if all Democrats oppose Kavanaugh.
Should McCain's successor be appointed before the Senate vote, Republicans would hold a 51-49 majority, meaning that one Republican defector — and all Democrats opposing Kavanaugh — would result in a 50-50 split and Vice President Mike Pence would cast the deciding vote.
What to watch for during the hearings
The swing-vote senators' decisions on Kavanaugh will likely be influenced by how Kavanaugh fares during his upcoming Senate hearing. The hearing will include witnesses testifying both in support of and against Kavanaugh, including former clerks and students; university professors regarding the effect Kavanaugh's votes could have on key issues; law professor Akhil Amar, who penned an op-ed entitled "A Liberal's Case for Brett Kavanaugh;" and John Dean, who served as White House counsel for Richard Nixon and was embroiled in the Watergate scandal.
Democrats on the Senate Judiciary Committee are expected to ask Kavanaugh about key issues that could influence undecided senators, though it's unclear how much Kavanaugh will divulge; the longstanding "Ginsburg Rule" suggests that Supreme Court nominees not offer hints about how they'd rule on the bench during their Senate hearing.
Abortion rights and Roe v. Wade are expected to be key hearing topics. Though Collins appears to be leaning toward Kavanaugh, the Maine senator has said she will oppose a nominee who is "hostile" toward Roe v. Wade; Murkowski has also said she does "not want to see Roe v. Wade overturned."
Another important issue is the Affordable Care Act and its protections for pre-existing conditions, as a current lawsuit supported by the Trump administration seeks to end the health care program's protections. A number of swing-vote senators, including Manchin, McCaskill and Murkowski, have highlighted health care in their statements on Kavanaugh, making his responses particularly critical.
Beyond these major issues, the Senate hearing will also concern Kavanaugh's record, including his time in the Bush administration. Kavanaugh's tenure as Bush's White House counsel and staff secretary has emerged as a major source of contention ahead of his confirmation, as a large portion of Kavanaugh's documents from his Bush years have not yet been released. The Trump administration said Friday it was invoking presidential privilege to block the release of 100,000 documents, which Senate Minority Leader Chuck Schumer said "has all the makings of a cover up."
Democrats are particularly interested in Kavanaugh's role in the Bush administration's torture program. Kavanaugh claimed during his 2006 district court hearing he was "not involved in the questions about the rules governing detention of combatants," but came under fire from Democrats when a later Washington Post article revealed Kavanaugh had participated in a meeting concerning the administration's detention policies. Emails released ahead of Kavanaugh's Supreme Court hearing have renewed questions over whether he participated in the program — and therefore lied during his district court hearing.
As Trump faces legal scrutiny over both his involvement with Michael Cohen's campaign finance violations and his 2016 campaign's potential ties to Russia, Kavanaugh's comments on presidential power are also expected to be a major focus of the hearings. Kavanaugh, who served on special prosecutor Kenneth Starr's team as Starr investigated former President Bill Clinton, said in the past that Clinton should not be indicted as a sitting president. He also said during a 1999 panel discussion that United States v. Nixon, which struck down the idea of absolute presidential privilege, was perhaps "wrongly decided."
What effect Kavanaugh's comments could have on the swing-vote senators, however, remains to be seen. Though several senators expressed concern over Trump being implicated in Cohen's campaign finance crime, Jones appeared to be the only swing-vote senator pushing for a delay in Kavanaugh's confirmation as a result.
"Let's do our job," Manchin said on Aug. 22 about his Democratic colleagues' calls to delay Kavanaugh's confirmation. "Delaying is not going to help anything."